March 19th, 2009
Couldn't it just be the 'Starlite Lounge'?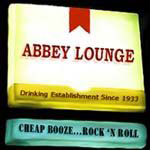 Were you wondering what was happening to the space formerly occupied by Somerville's most venerable live-music venue, the Abbey Lounge? Here's what:
March 18, 2009 (SOMERVILLE, MA) Trina's Starlite Lounge, a restaurant and bar located at 3 Beacon Street in Inman Square, is slated to open Summer 2009. Owners Josh Childs (co-owner of Silvertone Bar & Grill) and Trina and Beau Sturm (City Bar and Highland Kitchen, respectively) have sixty years of collective front-of-house and back-of-house experience, including some of Boston's most notable bars. Together they will bring exceptional service, fun and appealing cocktails and affordable, southern-influenced bar fare to the urban diner in an environment inspired by 1940s and 1950s.
The folks behind Silvertone and Highland Kitchen? Check. A new, hip hangout in the Inman Square vicinity? Check. "Appealing cocktails," "affordable, southern-influenced bar fare," and "an environment inspired by 1940s and 1950s?" Check. Unfortunately, however, this will no longer be a live-music venue. And, instead of just being called the Starlite Lounge, it's called Trina's Starlite Lounge. Do we really need one of the owner's names attached? Couldn't we let the concept speak for itself?
Still, sounds like a place well worth investigating.
In other bar-launch news, I've heard a couple of reports that the old B-Side is being gutted (at least partially) in order to make way for the new establishment that will occupy that corner of Windsor and Hampshire in Cambridge. Could we really be in for two new good bars this summer?
Permalink | Filed under Boston bars | Tags: Abbey Lounge, Inman Square, lounge, music club, somerville