November 8th, 2008
Party like it's 1944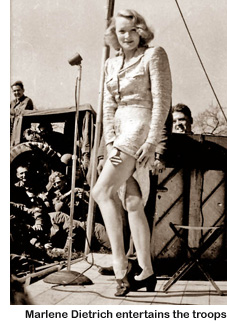 If you were reading drinkboston around this time last year, you may recall the post I wrote about one of the most fun parties ever: the LUPEC Boston Tea Party. The Boston chapter of LUPEC (Ladies United for the Preservation of Endangered Cocktails) took over a riverboat docked near the North End and turned it into a 1920s speakeasy, with vintage cocktails and music, oysters and appetizers from some of Boston's best chefs, and a bunch of festive people in period dress. The party, along with the This One's for the Ladies cocktail promotion at area bars, raised $10,000 for Jane Doe, Inc.
On Friday, November 21 (7-11 p.m.), the ladies are doing it all again — 1940s-style — with their second annual fundraising bash, the LUPEC Boston USO Show. This time, we're taking over a larger, land-based venue, the Jorge Hernandez Cultural Center (85 W. Newton St., South End, Boston), for a party inspired by the USO variety shows that entertained American troops during WWII. Rest assured, like the USO shows, the party is coed.
Entertainment will include swing music spun by DJ Brother Cleve, the burlesque comediennes Two Girls for Five Bucks, a Bob Hope impersonator (Boston comedian-actor Harry Gordon) and the Boston Derby Dames, who will skate around serving chocolates.
Vintage libations, like the classic rum-and-lime daiquiri (one of WWII veteran JFK's fave cocktails), will be served by some of Boston's best bartenders, and oysters and apps will again come from some of the city's culinary stars.
Scour your local vintage clothing shops for 1940s-era attire, and do not — I repeat, DO NOT — miss this party. Unless you hate having fun.
This year's proceeds from This One's for the Ladies and the USO Show will benefit women at the New England Shelter for Homeless Veterans. Tix are $35 ($45 at the door) and include four cocktails and all the eats. And you can buy them online this year at grandthestore.com (includes a service charge) or in person at Grand, Toro or Tremont 647. Lots more details on the USO Show and This One's for the Ladies are available on the LUPEC Boston blog. Hope to see you there!
Permalink | Filed under Cocktails, Events | Tags: 1940s, LUPEC Boston, USO show