June 10th, 2008
Shaken or Stirred?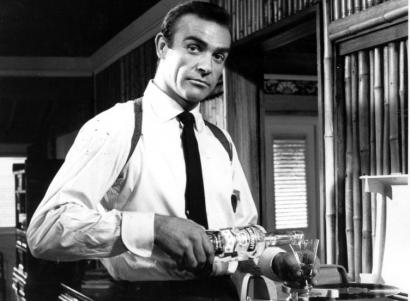 This post also appears on the LUPEC Boston blog as a companion piece to an article I wrote for the LUPEC Boston cocktail column in the latest Weekly Dig, which will be out in print tomorrow.
Which cocktails should be shaken and which ones should be stirred? If you're a student of classic mixology, you might answer, "That's easy. Drinks with eggs, dairy or fruit juices should be shaken, and 'clear' drinks made with only spirits, vermouth, etc. should be stirred." OK, the first of those mandates is seldom disputed. Stirring an egg drink? Not gonna work. But shaking a Martini? James Bond has some surprising company here.
Take the respected Savoy Cocktail Book: its mixing instructions for clear drinks are all over the map; some recipes say "stir," some say "shake." New York Times restaurant critic William Grimes' much-consulted book Straight Up or on the Rocks: the Story of the American Cocktail instructs you to shake a Martini. Even the "Professor," Jerry Thomas, "couldn't make up his mind whether the Cocktail is shaken or stirred," writes David Wondrich in Imbibe! "His brandy Cocktail calls for the spoon, his gin and whiskey ones the shaker. Nor are his professional colleagues much help … Judging by the numerous depictions of 'tossing the foaming cocktail' back and forth in a huge arc, in the 1860s and 1870s consensus favored this method — or perhaps it was just the more picturesque one and hence was noticed more often."
That consensus still holds in, like, 99 percent of modern bars. Most drinkers like the theatricality of a shaken drink, and most bartenders are happy to oblige, especially since it's easier for them to employ only one mixing technique. Sure, your Grey Goose with olives will be cloudy with air bubbles, but it'll be drinkable.
Is "drinkable" good enough when you're paying $10-$15 for a cocktail? If you gravitate toward clear mixtures, as I often do, the answer is probably "no." There's something about a Martini, a Manhattan, a Saratoga or a Gin and It that has been deftly swirled over ice for a good minute, then strained into a chilled cocktail glass without a trace of agitation. What you get is a shimmeringly transparent drink that looks and tastes that much more elegant than its shaken sibling. And consider this: a bartender who takes the time to stir a cocktail is likely going to get its proportions and temperature right, too. Time to re-think your drink, Bond.
Permalink | Filed under Cocktails | Tags: stirring vs shaking