May 6th, 2008
Get Mr. Boston for your iPod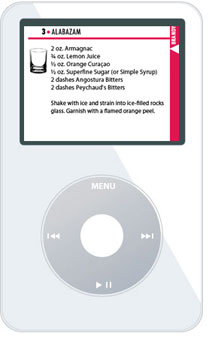 Mr. Boston's Official Bartender's and Party Guide is the only thing on my iPod right now. Yeah, in order to install the Mac version of the Guide, I had to re-format my iPod, which, being a hand-me-down from Scott, was originally formatted for Windows. As anyone who has struggled with iTunes' sociopathic quirks knows, that meant I had to erase everything on the damn thing — 35 gigabytes of music, roughly.
But now I have 1,200 cocktail recipes on hand wherever I go! Who needs the entire Beatles catalog when you have the Mr. Boston drinks database? (OK, I'm not sweating too much. I'll have both as soon as I re-load my iTunes library back onto the pod.)
Even after all that, I highly recommend this thing. It's really cool. You scroll through cocktails in alphabetical order by base spirit, and there are short histories of liquors, tips on bartending and party planning, etc. The screens are ultra-clean-looking and easy to read. You may be wondering: is this some jive-ass, out-of-print version of the Mr. Boston Guide? No. It's based on the latest, "platinum" edition released a few years ago and edited by drinks writer and Boston Magazine contributor Anthony Giglio.
I showed it to a bartender friend of mine last night — someone who has an impressive library of rare, old cocktail books — and this individual exclaimed, "I want that!" If you want it, too, you're in luck, because the Guide's producer, Raybook, is having a sale — two sales, actually. Until the end of May, you can use the code SPRING08 to get a 20% discount off the download, which is currently already on sale for $15.99 (down from $19.99). So, if you're not in iTunes limbo and you have 246 megabytes to spare on your iPod, you can't really lose here.
Permalink | Filed under Books & resources | Tags: ipod, mr. boston bartender's guide