April 11th, 2008
The Publick House – Best Boston bars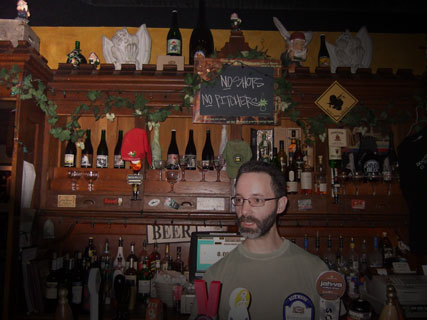 Established: 2002
Specialty: Beer
Prices: Moderate
Atmosphere: Beer-loving ladies and gents congregate here en masse for top-notch Belgian and other artisanal beers, a friendly vibe and a choice of two bars adorned with authentic Belgian taps and brewery decor.
See Best Boston bars for address and contact info.
If the ho-hum lager Stella Artois is what you equate with "Belgian beer," then get yourself over to the Publick House in Brookline (1648 Beacon St.) ASAP. As you confront the beauty of a complex Trappist ale or bottle-conditioned saison (the Champagne of the beer world), you'll realize what you've been missing.
The Publick House has so successfully schooled Boston-area residents in Belgium's myriad beer styles that David Ciccolo, who owns the pub with his wife, Ailish Gilligan, was knighted in that country. Seriously. Shortly after opening the Monk's Cell, a tap room adjacent to the Publick House, in 2007, Ciccolo traveled to Brussels to be inducted into the Chevalerie du Fourquet des Brasseurs, or Knighthood of the Brewer's Mash Staff. Formidable! I'm guessing the fact that he used to be an actual brewer, at the defunct Tremont Brewing Co. in Charlestown, didn't hurt.
The Publick House's beer menu leans heavily toward Belgians (roughly 100 of them), but it has a very respectable selection from the best American craft breweries (Allagash, Sixpoint, etc.), plus the occasional tasty treat from elsewhere in Europe. Belgian breweriana decorates the walls, and the proper glassware is used. I loved my Atomium Grand Cru in its wide-mouthed goblet emblazoned with the beer's namesake: Brussels' kitschy monument to molecular science built for the 1958 World's Fair. Naturally, there are mussels and frites on the menu, along with several dishes in the gastro-pub vein. And one of my favorite bartenders, Matt Tremblay (pictured above) — whom I've known since he worked at the Cambridge Brewing Co. back in my brewing days — is the top tap man there. His attitude echoes that of the Publick House as a whole: respectful of good beer without being snobby about it.
Beers range from $4 to $8 (and more for the rare stuff); dishes from roughly $8 to $20. Astute barflies will remember that the Publick House originally opened under the gaelic name Anam Cara. Naturally, confused patrons would walk in expecting an Irish pub. Ciccolo says that was an "admitted mistake," and changed the name. The most frequent complaint about the Publick House is that it gets too crowded. "I don't understand why more people aren't doing what we're doing," Ciccolo says. Not surprisingly, he has plans to expand his empire, which now includes not only the Publick House and the Monk's Cell, but Publick House Provisions (1706 Beacon St.), a specialty grocery store that features the beers on the Publick House menu, cheeses, Belgian chocolates, etc. Personally, I'm lobbying for a Belgian tap room in the Cambridge-Somerville area.
Permalink | Filed under Beer, Boston bars |