December 31st, 2007
Bonne année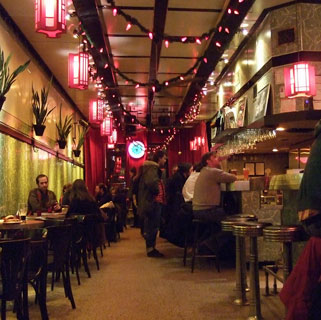 Where does a Boston-based drinks blogger go to celebrate New Year's Eve? Montreal, of course. Assuming you're a seasoned barfly like me, you probably have conflicted feelings about going out on the town for New Year's only to drink overpriced drinks, eat overpriced food and fight for cabs with all the smashed club kids pouring out of the Alley at 2:00 a.m. One way to go out and enjoy the evening without experiencing this hometown malaise is simply to reach for a change of scenery. That's what I did. Selfish of me, I know, because it means I have absolutely no advice for anyone looking for cool things to do in Boston for the big night. If you're desperate, you might get a few ideas from last year's NYE post.
Canada's ultimate New Year's celebration is happening in Quebec City, which is kicking off its 400th anniversary celebration. But we ended up in Montreal because it happens to be the home of one of North America's best bars, Le Cheval Blanc (809 Rue Ontario). Cheval Blanc is a brewpub that has been around for 20 years. It is not like the brewpubs that most New Englanders know, with lots of gleaming tanks and sterile, un-bar-like decor. No, it's a great bar that just happens to have a brewery downstairs. The stainless steel, reach-in coolers and faux marble wall panels appear to date from the 1950s. Spiky snake plants on the wall, red lanterns and a big neon clock complete a look and feel that's retro and original all at once. The house music veers from punk to klezmer to soul. Probably the best brew in the place is a Belgian-style white beer simply called blanche. There's also an amber (ambrée), IPA, porter and few specialty beers in bottles — including a nice barleywine (strong, British-style ale) that we shared last night with one of Cheval Blanc's regulars, an ivy capped guy named Pat.
The clientele and the staff are laid-back and friendly in a cool, Quebecois way. We hear both the brewer and the bartender will appear on stage tonight as part of a special New Year's band. Looks like we're heading back to Rue Ontario. Cheers, Beantown.