November 21st, 2007
Suffering bastards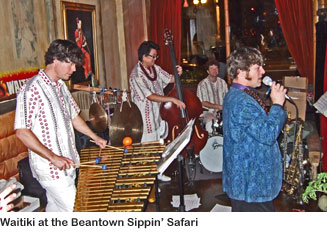 I'm guessing that the poor individual who inspired the name of a famous tiki drink is what the bar staff of Pho Republique felt like the morning after Sunday night's wildly popular Beantown Sippin' Safari with tiki guru Jeff "Beach Bum" Berry. The Bum came up from Asheville, NC, to re-introduce Bostonians to a genre of cocktail considered to be extinct except as a lingering artifact in those mausoleums of a lost era known as Polynesian restaurants.
And so it was that I had my first authentic Navy Grog (light and dark rum, fresh lime and grapefruit, allspice syrup), sipped through a straw stuck into a tall cone of crushed ice. The Bum gave an enlightening slide presentation of old menus, matchbooks and postcard photos from long-defunct tiki restaurants in eastern Massachusetts — I had no idea how many of these establishments there were — and Waitiki played trippy, sexy live exotica, which I had previously only heard on records at hipster cocktail parties.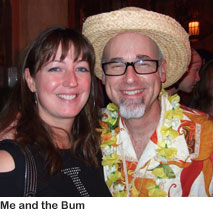 The supply of crushed ice cones seemed endless, which was a good thing, because the place was packed. This might have had something to do with the fact that the admission price for the event, which started out at $75, was smartly dropped to zero. Someone calculated correctly that brisk sales of $9 tiki drinks would cover the costs of the Sippin' Safari. The event revealed a surprising thirst for tiki, not only among Bostonians but among visitors representing a resurgence in this culture that has been going on for several years now. I met a tikiphile who flew in from San Francisco just for the event.
OK, so there might have been a few glitches. Maybe the bar neglected to order enough Bacardi 151, so maybe there weren't enough Zombies to go around. And maybe the dim sum was passed around a little too late, given the strength of the libations. But there was plenty of Navy Grog. And I got to meet not only the Bum, but my fellow drinks blogger Scott Steeves of Scottes Rum Pages. All on a cold Sunday night in the middle of November. If the opportunity presented itself, I'd go on Safari again.