November 2nd, 2007
Project Savoy, Operation 1919 get press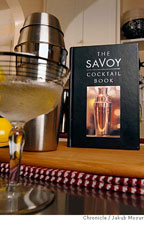 Erik Ellestad, who hosts the Spirits & Cocktails forum on eGullet.org, recently sent me a link to the second in a series of profiles he's doing on San Francisco bartenders. He was partly inspired by drinkboston.com's bartender profiles, but his profiles differ from the ones found here in their connection to a particular quest. Erik explains:
"Yes, I am making ALL the cocktails from the Savoy Cocktail Book in alphabetical order. I am currently on 'D'. When I can get it together enough to work with a local bartender, I give them a choice of something like the next dozen cocktails and we taste a couple of them together. So far it has been pretty cool."
I'll say. His latest profilee, Josey Packard of the Alembic Bar, mixed up the Diki-Diki and the Devonia, in addition to offering a few other cocktail and biographical tidbits. Check it out. Apparently, Josey has ties to Boston, because she says she created the signature cocktail for the Boston Athenaeum's 200th anniversary in 2006. I'm intrigued, since I've been involved, along with Misty Kalkofen of Green Street, in creating a cocktail for the Athenaeum's Roaring Twenties party later this month. (Sorry, but the party's only for Athenaeum members.) Josey, I don't know you, but if you come across this post, email me!
Erik's Savoy project is the framework for "Resurrecting Spirits," a recent San Francisco Chronicle article about lost cocktail ingredients like absinthe, pimento dram, falernum and Batavia Arrack. The article's author is Camper English of Alcademics. I'd like to send a heartfelt thanks to Camper for mentioning in his article my post, Operation 1919, about reviving lost cocktail ingredients in the Boston area.
Permalink | Filed under Books & resources, drinkboston in the news, San Francisco |