August 31st, 2007
Michael Jackson, the British drinks writer known as the Beer Hunter, died yesterday in London. He was 65. If you have visited a beer bar or brewpub and enjoyed the flavorful, varied selection of beverages found therein, you can thank Jackson for that. He basically invented the field of beer writing in the 1970s and '80s and thereby shepherded and hugely influenced the worldwide beer renaissance that has occurred since then.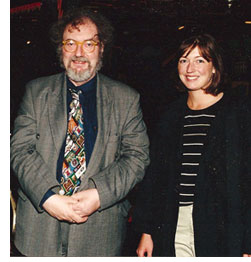 He inspired most if not all of the beer writers working today, including me. I have a few of his books: Great Beers of Belgium, the Bar and Cocktail Companion and an autographed copy of the Beer Companion. He also inspired artisanal brewers in the U.S. who lovingly revived the near-forgotten beer styles these books describe — stuff like porter, bock and IPA. It is in large measure because of him that mass-produced light lagers no longer monopolize the beer market like they did 20, 30 years ago.
Jackson succeeded because he wrote well. In his columns, he could be witty and poignant in the same paragraph, and his descriptions of drinks were concise and expressive, not florid. He wrote like he was talking to you, bringing you along on a pub crawl around the world. I met him briefly only a couple of times, including at a 1999 dinner at Redbones BBQ, where the above photo was taken. Philadelphia-based beer writer Lew Bryson knew him fairly well and wrote a heartfelt remembrance of the man, who had fought Parkinson's disease over the past several years.
In the Beer Companion, Jackson describes what it's like to drink Kolsch beer in its city of origin, Cologne, Germany. Many of us have had vivid, poetic beer-drinking experiences, but Jackson could actually put those experiences into words:
"In Cologne's brewpubs during the early evening, small casks are raised from the cellar by dumb-waiter, tapped, and exhausted within minutes. To the visitor, in the jostled space of the standing area (known to the locals as the Schwemme, or 'swimming bath'), it is an impressive sight. The waiters, whose uniform jackets or shirts are traditionally blue, over leather aprons, carry specially designed circular trays that hold the glasses like cartridges in a revolver."
Posted in Beer, Books & resources | 1 Comment »