August 21st, 2007
Monks make it, we shake it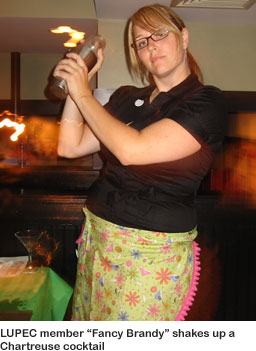 I'm guessing that when the monks of the Order of Chartreuse created their "liqueur of health" in 1737 they never imagined that, three centuries later, mixed-drink enthusiasts in the New World would gather at a Chartreuse cocktail party thrown by a group of debauched dames called Ladies United for the Preservation of Endangered Cocktails.
That's precisely what went down at Green Street in Cambridge last night. Drinkboston.com joined the Boston chapter of LUPEC to celebrate the herbaceous Chartreuse liqueur and the evocative elixirs that result when you mix it with, oh, gin and cucumbers. We served up two old-school Chartreuse cocktails and two new-school Chartreuse cocktails (see recipes below) while a monkishly robed local bartender and drinks historian bestowed his knowledge and blessings on those gathered.
Misty Kalkofen, Green Street bar manager and president of LUPEC Boston, and her fellow Ladies (who all go by aliases that are names of drinks) created two new cocktails specifically for the event. One of them, the Irma La Douce, was a winner in Salon.com's recent cocktail contest. It and the other featured cocktails were shaken to perfection by the Ladies and were damn tasty. Proceeds from the event got LUPEC started on its mission to throw co-ed cocktail events that raise funds for local women's charities. Check the LUPEC blog in the coming weeks for information about an event in October.
The Can Can (created by LUPEC Boston)
5 sour cherries
1 oz yellow Chartreuse
.25 oz fresh grapefruit juice
1 dash Angostura Bitters
sparkling wine
Muddle the sour cherries in a mixing glass. Add the Chartreuse, grapefruit juice, and bitters. Shake with ice and strain into a flute. Top with sparkling wine. This drink's name is inspired by its peppery kick.
The Irma La Douce (created by LUPEC Boston)
1.5 oz Hendrick's gin
.5 oz green Chartreuse
.5 oz fresh cucumber puree (peel and blend cucumber, then pass through a sieve)
.5 oz fresh lemon juice
.5 oz grapefruit juice
.25 oz simple syrup
Shake all ingredients with ice and strain into a chilled cocktail glass. Garnish with a slice of cucumber. (Don't want to make a puree? If you're making this cocktail for one or just a few guests, you can just muddle a few slices of peeled cucumber in a shaker.) A green French liqueur + a movie in which Shirley MacLaine plays a Parisian prostitute dressed in bright green stockings = a drink called the Irma La Douce.
The Champs-Elysees
1.5 oz brandy
.75 oz yellow Chartreuse
.75 oz fresh lemon juice
1 dash bitters
Shake all ingredients with ice and strain into a chilled cocktail glass. This vintage drink is on the regular cocktail menu at the B-Side Lounge.
The Scoff Law
1 oz rye whiskey
1 oz dry vermouth
.75 oz fresh lemon juice
.75 oz green Chartreuse
2 dashes orange bitters
Shake all ingredients with ice and strain into a chilled cocktail glass. This drink, according to Ted Haigh's book Vintage Spirits & Forgotten Cocktails, was invented at Harry's New York Bar in Paris and "hilariously baited Prohibition sensibilities (the term originally referred specifically to a frequenter of speakeasies and general flouter of the National Prohibition Act)." Another version of the Scoff Law calls for real pomegranate grenadine instead of Chartreuse. Both cocktails are terrific.