July 21st, 2007
Live from New Orleans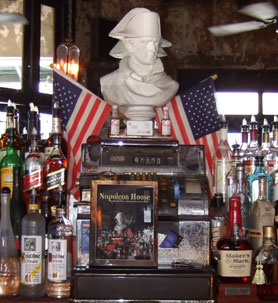 Pimm's Cups at the Napoleon House. Sazeracs at Tujaque's. Herbsaint & waters at Lafitte's Blacksmith Shop. Miller High Lifes at Vaughan's. PBRs at the Circle Bar.
Well, that just about covers my past 48 hours in New Orleans. I'm down here for Tales of the Cocktail (my first year, the conference's fifth), visiting NOLA's best bars and attending seminars on applejack, vermouth, lost ingredients, cocktail blogs, etc. The locals seem pleased that the event has drawn a pack of tourists to town during the slow season, and I keep running into fellow Bostonians in bars — that never happens back home!
I've been tickled to meet many of the people whom I previously knew only in print through their books and blogs: Esteemed author-mixologists Dale DeGroff, Ted Haigh, Paul Harrington and Wayne Curtis; NYC cocktail celebs Audrey Sanders, Chad Solomon and Christy Pope; and influential fellow bloggers Paul Clarke (Cocktail Chronicles), Chuck Taggart (Gumbo Pages), Darcy O'Neil (The Art of Drink) and Rick Stutz (Kaiser Penguin). What fun!
More on Tales to come. In the meantime, we Bostonians down here are plotting to infiltrate a few of next year's panels.
Permalink | Filed under Cocktails, New Orleans |