May 12th, 2007
Seattle's ZigZag Cafe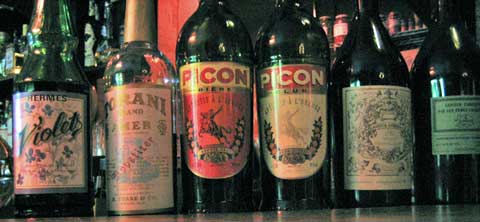 Scott Holliday, former bartender at Chez Henri and an honorary member of our Best Boston bartender list, wrote me recently about a trip to the Zig Zag Cafe in Seattle (Scott moved to Sacramento last year but will soon relocate to Montreal). His account made me want to hop on a flight to the West Coast immediately:
"Had the very good fortune of hitting the Zig Zag Cafe while in Seattle and sitting at Murray Stenson's bar for a spell. (Actually, Kacy Fitch and Ben Dougherty are the co-owners. As bar owners willing to have Murray take the spotlight, they are as rare and gracious as their star employee — and both damn fine bartenders themselves.) He's a great bartender, amazingly gracious and inspiring. That bar, for me, was more exciting than Pegu, Flatiron or Milk & Honey. They put out some amazing drinks (with amazingly rare ingredients) without making it an exclusive or precious experience. All drinks $8.25 and most menu items $12 or so.
"Murray gave us tastes of liqueurs from a French company, Giffard — both the ginger and an Indian-spice blend called Mangalore. Both were beautifully pure and balanced. Murray and Kacy said anything they've tried from Giffard was excellent, though sadly it's not available in the U.S. Also, just to satisfy my incredulity at what ingredients sat before me (see photo), they poured us tastes of Suntory Hermes Violets (you know, the nearly unobtainable descendent of dead-and-gone Creme Yvette) and, from the Firenze distiller L'Officina Farmaceutica di Santa Maria Novella, Elisir di Edimburgo (a bitters) and Alkermes (an ancient medicinal bitter and supposedly the predecessor to Campari). And then for comparison an Alkermic made for Murray in San Francisco. All the while I watched Murray and Kacy carefully mix drink after drink, and with few exceptions consistently reaching for one of the Zig Zag's impressive collection of bitters and herbals including Zwack Unicum, Torani Amer, both Amer Picons, Cynar, Fernet Branca, Branca Menta, VEP and yellow Chartreuse, and multiple Absinthe substitutes …
"Then we started on cocktails. I know, I'm a name dropping bore, but I've been so starved for the talk and craft of good drink I can't help myself.
"It was on my second visit that I had the chance to chat with Ben Dougherty, and he introduced me to the Creole (variation). If I had the ingredients at home, or if they existed anywhere in Sacramento (gingerale isn't even stocked in the bars here — if you order whiskey and ginger you get whiskey and 7up with a splash of Coke), I'd probably be half fluent in Creole by now or at the very least constantly slurring, 'Laissez les bon temps roulez.' It was also he who handed me Ted Saucier's 'Bottom's Up' to show me the recipe, essentially making me about $50 poorer by pointing out yet another void in my library. Hello eBay!"
Keep in touch, Scott.
Permalink | Filed under Bitters, Cocktails, Liqueur, Seattle |