January 26th, 2007
The Alchemist Lounge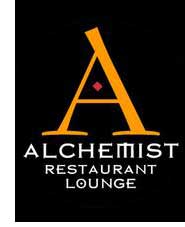 You know that when a bar is willing to stick its neck out and make cocktails with egg white, it is serious about drink mixing. John Byrd, a bartender at the Alchemist Lounge (435 S. Huntington Ave. Jamaica Plain), wants to convince customers that egg white is a legit cocktail ingredient, and not some weird, gross thing that people in the olden days used to put in drinks because they didn't know any better. It's an uphill battle, but one worth fighting. That's because anyone who tastes John's Boston Sour will suddenly get it: egg white, shaken up hard with liquor and ice, lends a soft, fluffy texture that is really pleasant. Egg white does the same thing for drinks that it does for desserts like lemon meringue pie and tiramisu.
The Boston Sour, like most drinks on the Alchemist's menu, is a variation on a classic, with Benedictine, fresh orange juice and bitters dressing up the whiskey, lemon juice and egg white in the bare-bones version. The Ginger Gimlet naturally consists of gin and lime, only the gin is infused with raw ginger and, instead of Rose's, a house-made lime cordial is used. The Alchemist's play on the Sidecar is the Cable Car: house-made spiced rum, triple sec and lemon juice with a cinnamon and sugar rim. You get the idea.
Like many of the city's great bartenders, John Byrd is a former employee of the B-Side Lounge. He thrives on the combination of speed and craftsmanship he perfected there, and he has a demeanor that's both upbeat and edgy. One of the Alchemist's owners, Lyndon Fuller, remembered John from his days at the B-Side and convinced him to tend bar in Jamaica Plain even though he now lives in New York City. John seems unfazed about spending Wednesday through Saturday in Boston and the other half of the week in NYC.
When the Alchemist opened last year, lots of JP residents were up in arms about it replacing a beloved neighborhood bar called Triple D's. This is a story played over and over in every gentrifying neighborhood in every city in America. Change is hard, and yes, sometimes good watering holes are elbowed aside by yuppie foolishness. But I'm going to be callous and admit I have no lament here because a) I never went to Triple D's and b) the Alchemist is a good bar. It's a spacious but warm place with brick walls and polished wood floors. The whole gothic, "alchemy" theme isn't overly played up. The music is cool (musician, DJ and cocktail historian Brother Cleve walked in, and Lyndon cued up a track from Cleve's old band Combustible Edison), and there are DJs and/or bands Thursday through Sunday. The food is good — get the wild mushroom flatbread — and pretty cheap (entrées from $8 to $18). And finally, the cocktails are a reasonable $8-$9, there's a house pale ale on tap that comes from the nearby Boston Beer Co. (Samuel Adams), and the Boston Herald calls the wine list hip and affordable. Hey, not everybody wants hip, but you can't go wrong with affordable.
Permalink | Filed under Boston bars |