January 12th, 2007
The bar at Radius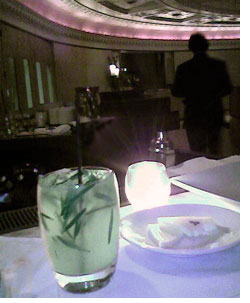 Radius, which has been on the short list of Boston's best restaurants since chef Michael Schlow opened it in 1999, specializes in the kind of contemporary cocktails found in most chic dining spots. That is, cocktails with up-to-the-minute ingredients that change with the seasons, much like the dishes on the menu. Example: the late-summer Family Heirloom, a chilled, straight-up mixture of heirloom tomato water (the colorless, pulpless, pure liquid from an heirloom tomato), Absolut Citron, Absolut Peppar, lemon and lime juice, a splash of simple syrup and a few drops of parsley oil, which form gem-green circles on the surface of the drink. I know: half of you are saying, "Mmmm, delicious," and half of you are saying, "That's preposterous." You're both right.
Walking into a swanky place like this, you are right to assume that there are professionals working behind the bar. But you also wonder, 'Will they give me the time of day if I'm not carrying a Prada bag?' Karen Olson puts those fears to rest. This barwoman has an easy, genuine laugh and readily admits to being a geek; she's addicted to playing Who Wants to Be a Millionaire on her cell phone. And it doesn't hurt that she looks like an Ivory girl. Karen moved to Boston from the Midwest several years back and developed her chops where all out-of-towners congregate when they first arrive in Boston — Legal Sea Foods. She eventually made her way to Radius as a bartender and server.
When I ordered a Pink Cashmere (Plymouth gin, Campari, Cointreau, lime, grapefruit soda and muddled black peppercorns over ice), Karen told me that she and her co-bartenders decreed that every Radius cocktail menu include a drink named after a Prince song (the Raspberry Beret preceded the Pink Cashmere, which I'm going to admit I didn't know was a Prince song). Some of the most frou-frou-sounding drinks here have surprising backbone, like the Floating Cloud: Bacardi light and Myers dark rum, apple cider and Frangelico topped with almond-flavored whipped cream. Lurking underneath the frothy topping is a belt of rum worthy of a sailor.
The Rosemary Gimlet (pictured), an Olson creation, is my favorite drink at Radius: Hendrick's gin, lime juice, simple syrup and muddled fresh rosemary topped with ginger beer. It's the perfect balance of "classic" and "creative" mixology. Have one of these with the duck quesadilla, the frites with three dipping sauces … or anything on the menu, really. Radius gets its bar food right with comforting, familiar-sounding dishes that are kicked up to the level of great cuisine.
Permalink | Filed under Bartenders, Boston bars, Cocktails |