November 15th, 2006
Launched – the cocktails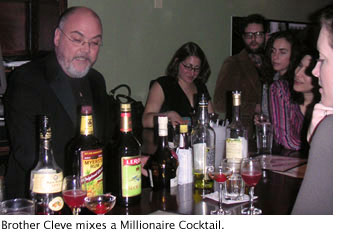 Here are the recipes for the drinks featured at drinkboston.com's launch party, along with highly condensed versions of each bartender's remarks about his/her drink. In order they were:
The Jack Rose (mixed by Jackson Cannon)
Some recipes call for lemon, some for lime. Applejack, a nearly forgotten spirit, is the base. Do not attempt to mix this drink without real pomegranate grenadine.
2 oz Laird's Applejack
3/4 oz handmade grenadine (see recipe below)
1/2 oz fresh-squeezed lemon juice
one dash Peychaud's Bitters
Shake over ice and strain, garnish with a lemon twist.
Grenadine: 2 parts pomegranate juice, 1 part cane sugar. Bring to boil, reduce heat and simmer to thicken slightly. Remove from heat and finish with a touch of orange flower water. Let chill, store in refrigerator.
The Sazerac (mixed by John Gertsen)
Born of the mishmash of New Orleans culture in the early to mid-1800s and believed by many to be the first cocktail. Antoine Peychaud was an apothecary whose proprietary blend of medicinal bitters was mixed with cognac before rye became the preference (rye was America's whiskey before bourbon became more popular).
1 sugar cube (4-7 grams)
7 dashes Peychaud's Bitters
1 oz water
3 oz Sazerac rye whiskey
A few drops of Herbsaint (pastis)
Muddle first three ingredients in mixing glass. "Rinse" a pre-chilled, old-fashioned glass with Herbsaint (pour drops of Herbsaint into glass, swirl and discard). Add rye to mixing glass and fill with ice. Stir well for 30 seconds and strain into Herbsaint-rinsed glass. Squeeze lemon twist over glass and rub around rim. Discard peel.
The Widow's Kiss (mixed by Misty Kalkofen)
Drinks like this fell out of favor as people's tastes moved to fruit-flavored liqueurs rather than "scary" herbal liqueurs like Chartreuse and Benedictine. There's no real story behind this drink (it probably originated in 1895). Let's make one up!
1 & 1/2 oz Calvados
3/4 oz Benedictine
3/4 oz yellow Chartreuse
2 dashes Angostura Bitters
Stir. Strain. Garnish with a cherry.

The Millionaire Cocktail (mixed by Brother Cleve)
This is but one of several widely varying drink recipes that go by the name "Millionaire." It appears in Vintage Spirits & Forgotten Cocktails, by Ted Haigh (aka Dr. Cocktail).
1 & 1/2 oz Myer's Original Dark Rum
3/4 oz apricot brandy
3/4 oz sloe gin
juice of one fresh lime (about 1 oz)
Shake well in an iced shaker. Strain into cocktail glass. Garnish with lime.
Permalink | Filed under Applejack, Calvados, Cocktails, Events, Liqueur, Rum, Whiskey |