August 1st, 2006
DeLux Cafe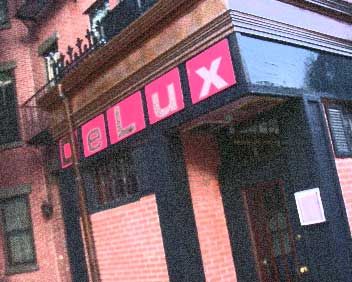 Established: 1992
Specialty: basic cocktails and beer
Prices: cheap
Atmosphere: A wide array of types who appreciate a good value — twentysomethings paying off student loans, families, musicians, guys in beige Dockers — congregate here for the good, cheap food and drink and that "cool bar" vibe that vintage album covers, a 1950s-era "exotic" nude painting, and a year 'round plastic Santa provide.
See Best Boston bars (Honorable mention) for address and contact info.
Google the DeLux Cafe in the South End, and your search results will yield dozens of reviews that describe the place as an inexpensive, crowded, kitschy, hip, laid-back, neighborhood dive with a kickass kitchen.
On a recent Thursday night, we showed up at DeLux at cocktail hour, around 5:30. The bartender, a slender, take-no-shit brunette named Jenna, was chatting sassily with a customer she obviously knew fairly well. He was wearing office clothes and drinking a tall can of beer. She approached us after the standard delay that relative strangers to a neighborhood bar are made to sit through. I had seen a couple of references to "good drinks" in the online reviews, so I went out on a limb and asked if there was a cocktail menu. No? OK, are there any drinks the place is known for? I ventured. Jenna eyed me warily. "What do you want? Anything I make is good. I've been bartending for nine years." I could see the wheels of her mind turning: Where does this flibbertigibbet think she is? I came to my senses and ordered a Maker's Mark Manhattan. My companion, relieved that I had ended the Difficult Woman routine, ordered a Schlitz tallboy.
The Manhattan was perfectly chilled and didn't come in some ridiculous Big Gulp glass. It was a solid drink, and it was, like, $6.50. The Martini my companion ordered was equally well made. We ended up with a tab of two cocktails, three beers, and two steak-tip entrees for roughly $48. My god, we normally pay that much for just drinks anywhere else. I don't know how DeLux manages to get away with those prices, particularly since it's in the heart of the pricey South End, and I don't care, as long as they don't have eight-year-old slaves washing dishes or something.
The food menu changes regularly, the taps pour Guinness and a few microbrews, and the music is pretty near ideal — Elvis Presley, George Jones, Dusty Springfield, the Germs, and Blondie soundtracked our visit. So the service has a bit of attitude; that's only if you ask for a cocktail menu.
Permalink | Filed under Boston bars, Cocktails |