July 18th, 2006
Sunset Grill & Tap
Established: 1987
Specialty: Beer
Prices: Low to moderate
Atmosphere: The Sunset Grill & Tap is to beer as the DSW Shoe Warehouse is to footwear. Big place, huge beer selection, weekly deals, and a well lit, friendly but somewhat impersonal vibe.
See Best Boston bars (Honorable mention) for address and contact info.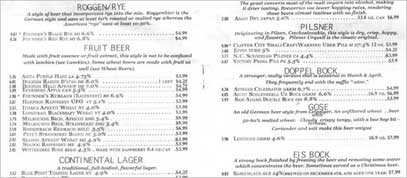 If you're the type of person who likes a mammoth beer menu — a multi-page tome with fine print that categorizes beers according to style and has separate sections for draught beers and specialties like mead and "beertails" — the Sunset Grill & Tap is calling your name.
This casual dining establishment in the heavily student-populated Boston neighborhood of Allston features 380 kinds of beer, including a whopping 112 taps, plus plenty of bar surface area at which to sample them. The Sunset doesn't just stock a bunch of random beers from every two-bit microbrewery and global-conglomerate-owned brand in order to throw big numbers around. No, the 380 beers here are, in large part, quality offerings (don't worry, your ignorant roommate can still get a Corona) that include the full spectrum of Belgian beers (Trappist ales, gueuze, etc.) and beers from geek-approved U.S. craft breweries like Allagash (ME), Avery (CO), Dogfish Head (DE), Founder's (MI), Moylan's (CA), and Victory (PA).
The food menu's also huge, with all manner of Appeteasers, Dippers & Poppers, Nacho Mamas, Salada Salads, Meltdowns and, on Sundays, the Super Sunrise Sunday Brewers Brunch. The grub is decent, the service is competent, and there's lots of colorful breweriana (real word) on the walls. Luckily, the staff is not required to wear pieces of flair, or the Sunset might come across as a little too Bennigan's-esque. The beer is what it's all about for us, and we'll stop in whenever we're in Allston.
Permalink | Filed under Beer, Boston bars |