July 2nd, 2006
Bukowski Tavern, Cambridge – Best Boston bars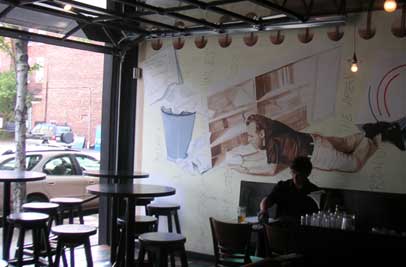 Established: 2003
Specialty: Beer
Prices: Moderate to high for beer, low for food
Atmosphere: Pierced and tattooed modern literature-loving ironists meet beer geeks in this multi-tap shrine to the late Beat poet and legendary boozehound Charles Bukowski.
See Best Boston bars – honorable mention for address and contact info.
Bukowski opened up in the Inman Square neighborhood of Cambridge to the delight of people who yearned for more than one choice of a neighborhood bar, that choice being the decent enough, non-cartoonish but small Irish pub the Druid. Bukowski took over the fairly spacious, dark, rectangular room once occupied by the Korean restaurant Jae's. A large mural of Bukowski and his drunken jottings on one wall, red vinyl booths, glass doors that open onto the sidewalk in summer, and a nice, long bar with round swivel stools invite you to stop in whenever you're hit with the urge to eat a cheeseburger and drink a double IPA.
The tavern features 130 beers (15 on draught), very few of which are mere menu dressing. And there's always some interesting item on tap or in the cooler, be it a Belgian-influenced ale from some little boutique brewery like Hair of the Dog in Portland, OR, or the surplus of Lion Stout that one manager shrewdly stockpiled just after the '04 tsunami temporarily shut down the Sri Lankan brewery that makes the beer.
Brisk beer turnover is also aided by the fact that most of the tavern's selection appears on the Dead Author's Club card — a list of over 100 beers that you have to work your way through in six months in order to earn a 25-ounce mug (priced the same as a pint) etched with the name of your favorite dead author, provided he or she doesn't already appear on someone else's mug. (Note: the term "author" is treated loosely here, as mugs etched with the names Johnny Cash and Tupac attest.) And if you're stumped by the sheer number of beers available, ask your server to spin the "dial-a-beer" wheel for you. Just remember: you spin it, you own it.
The food here is casual, reasonably priced and consistently decent. Burgers and hotdogs (big, all-beef ones with chili or sauerkraut) rule the day, but vegetarian offerings are worth ordering, especially the White Trash Cheese Dip, a warm, gooey mixture of American cheese, jalapenos, onions and tomatoes served with fresh-fried tortilla chips.
The only drawback to the Cambridge Bukowski and its older sibling in Boston is that when it comes to beer, the good stuff ain't cheap. Draft pints range from $5-$7, and bottles can cost, say, $7 for a standard import like Paulaner Hefe-Weizen, all the way up to $15 and beyond for specialty Belgian ales and rare, small-batch American craft beers. A can of Schlitz or Schaefer is a somewhat more economical $3. Commercial rent prices in Boston and Cambridge must be steep indeed.
Permalink | Filed under Beer, Boston bars |