December 17th, 2008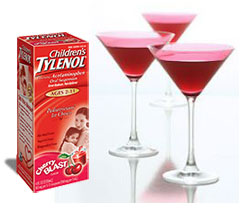 Got a fever? Forget the Theraflu. Have a Baby Tylenoltini instead!
I am not kidding. This is an actual cocktail planned for the forthcoming (January 2009) winter drink menu at Tamo, the bar in the Seaport Hotel's Aura Restaurant. I have never been to Tamo. For all I know, it's a perfectly pleasant place to enjoy a drink in the Seaport district. But its cold-and-flu-themed cocktail menu? Bizarre. Some highlights from the press release:
"Baby Tylenoltini: Nothing stirs up nostalgia quite like the sweet tartness of Baby Tylenol — this adult reinterpretation combines Absolut pear, ginger, lemon, honey, Grenadine and pink lemonade … maybe growing up isn't so bad after all!
"Cherry Cough Drop: Luden's, everyone's favorite excuse to pop cherry candy all day long, is reincarnated into liquid form with a mix of Stoli Raz, Chambord and Champagne.
"Asian Sniffle Snuffer: A gingerly mix of Canton ginger liqueur, Grey Goose vodka and soda with a splash of bitters and fresh ginger garnish — who needs Vicks Vaporub with the sinus clearing effects of bitters!"
You can't make this stuff up. A cocktail formulated to taste like Baby Tylenol?! I can't wait for the Gerber Banana Daiquiri on the summer menu. Let's hope this isn't the beginning of a disturbing new trend. The same goes for this invitation I received from the celebrated chef behind Pigalle, Marco and, more recently, Restaurant L (inside Louis Boston):
"Chef/owner/Mack Daddy Marc Orfaly and Restaurant L invites [sic] you to a night of industry debauchery you will never forget … Come dressed as a suave pimp or a slammin' ho. 1st, 2nd and 3rd place prizes go to the best dressed!"
Wow, I've been invited to a party by one of Boston's best chefs, but only if I come dressed as a sex worker. I know, I know, "pimp" and "ho" are just terms of endearment these days — they're probably what first-graders call their teachers. But I'm going to have to go ahead and RSVP "Are you f-ing kidding me?"
Luckily, another recent communiqué has provided me a glimpse of civilization: two recipes for drinks using Dubonnet Rouge, which I grew up viewing as an old-lady drink and now know as an essential quinquina in classic cocktails like the Blackthorn. I'm going to admit I have not yet tried these cocktails, which were created by Jim Meehan of PDT in New York City. But they sound fantastic.
Royal Pomme Punch
Makes 12 servings
3/4 bottle Dubonnet Rouge
12 oz apple brandy (such as Laird's bonded or calvados)
24 dashes of Angostura bitters (or 3 oz St. Elizabeth Allspice Dram)
3 oz fresh-squeezed orange juice
12 oz champagne
Add Dubonnet, apple brandy, orange juice and bitters to a pitcher filled with ice. Stir and strain into a chilled punch bowl.  Garnish with a block of ice (use a small Tupperware container as the mold; pull the block out of the freezer 15 minutes before use to allow it to thaw sufficiently to remove it from the mold). Top with champagne and serve.
Single Malt Sangaree
1 oz Dubonnet Rouge
2 oz Paumanok Cabernet Franc
1 oz Oban 14-Year-Old (Highland malt or blended scotch can be substituted)
3/4 oz Grand Marnier
1 barspoon of demerara syrup (or teaspoon of sugar in the raw)
1 6-inch cinnamon stick
Add everything to a crock pot and heat until almost boiling. Pour into a heat-proof mug and twist an orange peel over the surface before serving. Garnish with a fresh cinnamon stick. Better as a cold remedy than a Baby Tylenoltini and more stimulating than a waitress dressed up as a slammin' ho.
Tags: cocktail trends, cold remedies, Dubonnet, pimps & ho's, winter drinks
Posted in Cocktails, Vodka | 17 Comments »