September 4th, 2009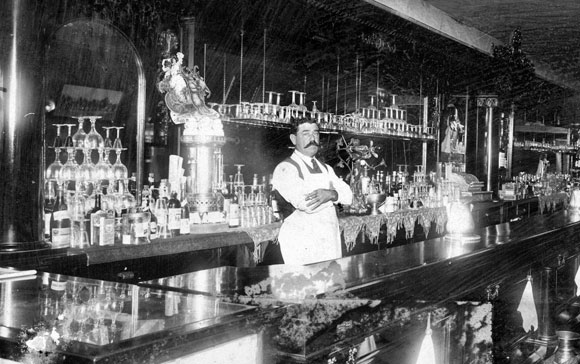 Wow, has it really been two years since I wrote the original Operation 1919 post urging Boston imbibers to demand pre-Prohibition and other rare cocktail ingredients from their local liquor purveyors? Well, some positive developments since then indicate that our voices have been heard.
Several stores have beefed up — and in some cases continued to stock — their selection of classic cocktail spirits, including BRIX Wines in Boston (South End and Broad St.), Downtown Wine & Spirits and the Wine & Cheese Cask in Somerville, the Wine Gallery in Brookline and Boston (Kenmore Square), Gordon's in Newton, Liquor Land in Roxbury, Mall Discount Liquors in Cambridge (Fresh Pond), and Julio's in Westborough.
The Boston Shaker at Grand in Somerville opened this past year and has become a Mecca for those seeking bitters (could you imagine buying celery, cherry or whiskey barrel-aged bitters two years ago? Ha!) and non-alcoholic ingredients like Luxardo maraschino cherries, fruit shrubs, real grenadine, orgeat and falernum, not to mention cocktail tools and books. Many people have chimed in here and elsewhere about specialty-food and international stores that carry stuff like orange flower water, passionfruit juice and pomegranate juice. These include Christina's spice shop in Cambridge, Super 88 grocery stores, and assorted Brazilian, Caribbean and Asian stores in a neighborhood near you. (Also check liquor stores in these 'hoods for stuff like cachaca, pisco and funky eaux de vie.) Then there's Cirace in the North End for hard-to-find aperitivos, amaros and digestivos (Cynar, Averna, Fernet, etc).
Just for fun, here's a wish list of items culled from comments on that first 1919 post, as well as from myself and various other cocktailians since then. I divided the list up into rough categories of availability. I say "rough," because a lot of this stuff is still only available at a handful of places, and is often unpredictably stocked. So please don't take my word for it — call ahead. And I know a few people out there who have more comprehensive knowledge of Boston-area liquor store inventories than I do, so please let me know of a) any hot new finds or b) unavailable items to start a new wish list.
More or less available at some/most of the places above
(Starred items available at the Boston Shaker)
Batavia Arrack
Bitters (other than Angostura and Fee's orange)*
Bluecoat Gin
Creme de Violette
Falernum (Fee Bros.)*
Genever (Bols, Anchor)
Herbsaint
Luxardo Maraschino cherries*
Luxardo Maraschino liqueur
Old Tom Gin (Hayman's)
Orgeat*
Pimento Dram (St. Elizabeth Allspice Liqueur)
Rye whiskey
Shrub (fruit syrups preserved with a little vinegar)*
Sloe Gin (Plymouth)
Vermouth (Vya, Dolin)
Sighted locally but generally hard to find
Amer Picon/Torani Amer
Bonded Applejack
Carpano Antica
Kummel
Marie Brizard liqueur (particularly Apry, or apricot)
Velvet Falernum
Unavailable or should be easier to find
Bitters (clones of Abbott's or Boker's — some bars are making their own)
Byrrh wine
Kola tonic
Raspberry syrup
Swedish punsch
One "hard to find" item that was mentioned more than once by commenters on that first post? St. Germain Elderflower Liqueur. Hard to imagine, since its ubiquity now has earned it the nickname "bartender's ketchup." Also, is Cherry Heering really that hard to find, or is it just me?
To conclude, I think we're getting there. But one-stop shopping for much of the above still seems far away. Is a huge, unfussy liquor warehouse that features Rittenhouse 100, Herbsaint, Luxardo cherries, grapefruit bitters and Creme de Violette, along with the usual 97 flavors of vodka and econo-sized Mudslides, too much of a pipe dream?
Tags: hard-to-find cocktail ingredients, pre-prohibition cocktails
Posted in Bitters, Cocktails, Drinking supplies | 30 Comments »