April 7th, 2009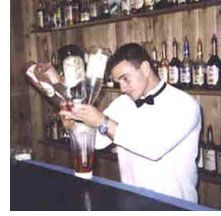 Finally, a bartending class for the armchair mixologist. It's called Home Bar Basics, and it's happening on April 13 at the Boston Shaker, Adam Lantheaume's store within a store at Grand in Union Square (374 Somerville Ave.). Remember? He's the guy who's selling hard-to-find cocktail ingredients, books and tools. Well, now he'll show you how to mix a proper drink. From the course description:
Want to start making cocktails at home but are befuddled by the different tools, ingredients and recipe instructions? Do the drinks you make at home never come out as well as the ones you have out? Want to understand some of the "hows and whys" of making cocktails? Check out this hands-on workshop!
It's $30, and the best thing is you can buy tix online.
Tags: Boston Shaker, cocktail classes, Grand, home bartending, somerville
Posted in Books & resources, Drinking supplies, Events | 3 Comments »