February 13th, 2008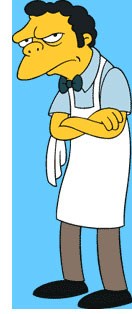 I have never met Walt Mates, but I plan to someday. Walt tends bar at Bistro La Belle in Midway, Kentucky. He is a fan of drinkboston, and I'd be lying if I said that didn't influence my admiration of him. That and the fact that he stumbled upon this blog while researching the Saratoga cocktail. And the fact that his late father is from Somerville.
But what I really like about Walt is that he started his bartending career in midlife, after the bookstore he owned closed down a couple of years ago. Instead of being bitter about the transition, he found that he loves his new line of work. "I am very fortunate and thankful to have a boss who backs me 100 percent in offering carefully crafted classic cocktails using all fresh ingredients," he says. And he likes his customers and co-workers, too! But recently, Walt emailed me to confide that he's been feeling a bit peeved lately. He has been grappling with an issue that I think all bartenders deal with. He refers to it as "status anxiety." Here's what he wrote:
"I have already told you that what I have enjoyed the most about drinkboston are the interviews with and profiles of Boston's best bartenders. What has struck me about so many of these individuals is that they seem to be Jacks and Jills of many trades and possess really varied and truly interesting backgrounds.
"I have been tending bar for a year and a half now, specializing in classic cocktails. Guests of the restaurant and my boss have been pleased and impressed with the drinks I prepare. And I can honestly say that I love my job. I treat and consider it as a craft and a profession. But I am beginning to experience a little status anxiety.
"Some people here in town who respected and eagerly interacted with me as a bookstore owner now treat me as a service worker. And while I realize that only shows how puny THEY are, at times I feel like shouting, 'I am more than just a bartender!' For heaven's sake, your friend Misty is a Harvard Divinity School grad! As much as I love the job, I have been wondering whether it is 'enough' for me personally and professionally.
"To boil it down, I was wondering whether some of the bartenders you know, who have done and accomplished many different things over the course of their lives, have expressed this same restlessness."
"Let's put your question on the blog," I said to Walt, and he agreed. So, bartenders, I'd love to hear your thoughts. Do some customers look down on you because you are a "mere" service worker? Do you ever feel the need to mention that you have other pursuits beyond mixing and serving drinks? Or do you simply dismiss as misguided anyone who believes that it's impossible to find professional fulfillment behind a bar? Weigh in by leaving a comment below, or, if you'd rather not, email your words of wisdom to me and I'll add them to the mix. Thanks!
Tags: Bartenders, career choice, respect, status
Posted in Bartenders | 17 Comments »