January 6th, 2011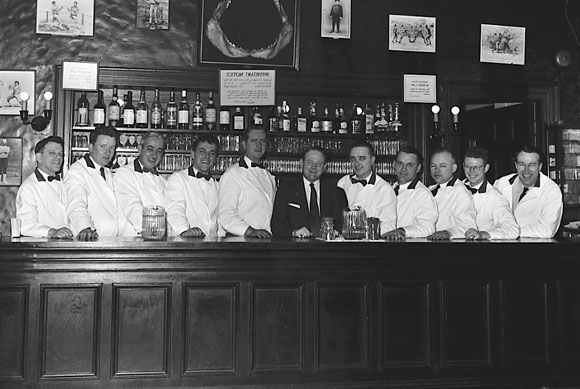 Don't get the wrong idea from this vintage photo in the Boston Public Library's print & photograph collection: women are well represented behind Beantown bars, and they and their male counterparts are getting organized.
First, our city's own chapter of the U.S. Bartenders Guild will soon be official. Corey Bunnewith of Citizen Pub, Kirsten Amman of LUPEC Boston, Alex Homans of Russell House Tavern and Rob Hoover of Upstairs on the Square are helming this effort, which right now involves finding at least 40 members with $100 for annual dues to sign on. Meanwhile, April Wachtel, bar manager of the solid new South End restaurant & bar The Gallows, has started a less formal, local (and, for now, free) concern called the Boston Bartenders Collaborative.
I never knew the USBG existed before the craft cocktail movement got going. It was founded way back in 1948, and it's affiliated with the 50-country International Bartenders Association, itself established in 1951. USBG sponsors seem to include every spirits conglomerate known to man — Pernod Ricard, Bacardi Ltd., William Grant, etc. — as Jonathan "Cocktail Guru" Pogash indicates in his summary of a recent field trip to Boston to help spark the USBG chapter here. Bunnewith says that although these companies obviously aim to promote their brands by sponsoring Guild events, they impose no restrictions on the use of spirits from lesser-known producers.
The four USBG-Boston officers mentioned above hosted a Pernod Ricard-sponsored meet & greet just before Christmas at Russell House Tavern to drum up interest, and several bartenders and others related to the industry (including this blogger) turned out. Lucky for me and a few others around town: we get our first year's dues waived for having successfully completed the BarSmarts program. (The USBG has different membership categories, one of which is for people who aren't actually bartenders.)
Why should you join? One reason is career advancement. "As the Guild gains a reputation in Boston, employers will recognize that members are knowledgable and passionate about alcoholic beverages and the operations of a bar," says Bunnewith. The USBG also has an accreditation program that is recognized worldwide, in case you decide to pack your bar tools and move to Bratislava. Other perks include product-education classes, events, the occasional field trip and invitations to participate in cocktail competitions (i.e. create cocktails for liquor companies for free as you vie to win a cool trip). In earnest, the chance to network, taste product, and go to fun events with others who take the profession seriously seem to me like excellent reasons to get involved.
Those are the same reasons people in the local biz should take a look at the Boston Bartenders Collaborative. Wachtel envisions a symbiotic relationship between USBG-Boston and her grass-roots enterprise, which is focused on education and so far has about 15 volunteer participants. Most meetings take place in one of the members' bars during a weekday. The next one, at Craigie on Main January 10, will feature John Mayer of Craigie and Tyler Wang of Drink talking about ice and dilution in cocktails. Other topics in the works include an interactive roundtable about cocktail formulas and discussions on speed and volume, guest relations and managing inventory. (See info about participating below.)
"There's a good part of our community that wants to learn in ways beyond just informal visits to other bars. This is a chance to build something that has never existed in Boston," says Wachtel, adding that the Collaborative aims to "have fun and not take ourselves too seriously."
Sure, some people might chuckle at the notion of bartenders getting together to talk about ice and inventory, but think about it: Boston barkeeps are elevating their profession and trying to create a solid talent pool in this town. I, for one, am wicked psyched about that.
For information about joining USBG-Boston, go to the group's Facebook page or email USBGBoston@gmail.com.
Most Boston Bartenders Collaborative seminars are members-only, but select seminars will be open to the general public. To receive notifications about seminars, or for more information, email April Wachtel at april@thegallowsboston.com.
Tags: Alex Homans, April Wachtel, Boston Bartenders Collaborative, Corey Bunnewith, education, guild, Kirsten Amman, Rob Hoover, USBG
Posted in Bartenders, Books & resources | 2 Comments »