February 26th, 2014
What's up, crafty bastards?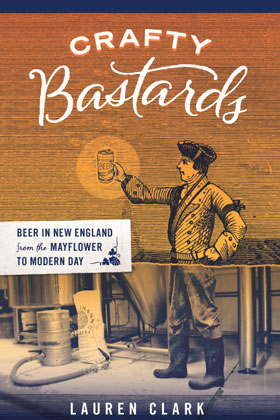 Oh, hey. This old watering hole has been boarded up for a while. You may have passed by from time to time and wondered, 'When's someone going to do something with that place?'
I never could part with the liquor license, so to speak. And it's a good thing, because I left a few half-empty bottles lying around, and I could use a drink. See, I had an adventure in Los Angeles. Then I drove back to Massachusetts with my Grammy Clark's American Tourister Bag. Then I got the opportunity to write a book about beer history. Now I'm done, and the book's coming out at the end of April. It's called Crafty Bastards: Beer in New England from the Mayflower to Modern Day, and the fine team at Union Park Press is putting it out.
The story starts literally from the day the Pilgrims landed in Plymouth (because they ran out of beer) and ends right about now, in the midst of the current craft beer boom. In between are the Puritans, the American Revolution, rum, cider, the Industrial Era, ale versus lager, saloons, Prohibition, Haffenreffer and 'Gansett and all their brethren, trailblazing homebrewers, David Geary and Jim Koch and the other early New England microbrewers, beer bars, BeerAdvocate, and a few resurrections.
There will be many fun and beery book release parties. I'll keep you posted here and/or at my forthcoming "Hi, I'm an author" website. (Stay tuned.) Or you can follow me on Twitter, Instagram or Facebook.
As for this blog … I'm honestly not sure what sort of shenanigans I'll revive here. So much has happened in Greater Boston Imbibing since July 2011. I'm just starting to catch up! See you out and about.
Permalink | Filed under Beer, Books & resources |