September 16th, 2010
The passion of Ted Munat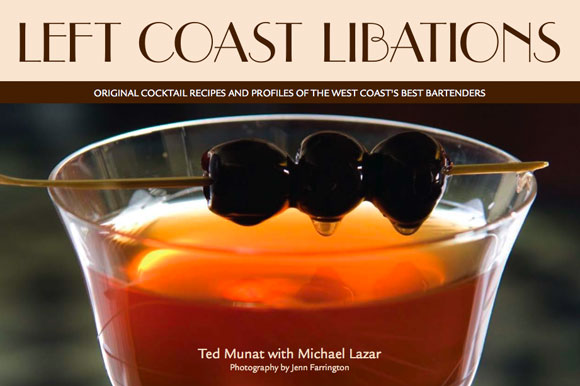 Ted Munat blogged this recently: "I love the cocktail industry. It is brimming with creativity and with beautiful and amazing people. The affection people have for what they do, and for the others that do it, is unmatched in any other community on earth I have ever encountered."
You might view that as mushy hyperbole from a happy drunk if Ted didn't just publish a book, Left Coast Libations, that makes a solid case for the above statement over 160 pages of bartender profiles, city descriptions and recipes/photos of the splendid mixology that's happening on the other side of the country. Left Coast Libations is an intelligent, cheeky, utterly heartfelt love letter to "the art of West Coast bartending."
The book grew out of a pamphlet that Ted and his brother Charles put together and introduced, as I remember it anyway, at Tales of the Cocktail in 2008. "One copy fell into the hands of Scott Bodarky, a Bay Area book publisher," writes Ted on the LCL website, and soon thereafter work on a "real life big boy book" began in partnership with recipe guru Michael Lazar and photographer Jenn Farrington. Here's a brief excerpt and recipe from the Portland, Oregon section's writeup of Evan Zimmerman of Laurelhurst Market (which I highly recommend):
"Evan's a tornado behind the bar. And creative, wild, borderline insane shit flies in every direction from where he stands. For the love of God, the man's drink in this book calls for smoked ice. Do you have any idea how far gone from reality a person has to be to conceive of smoking ice? I was a teenager once, and I tried smoking just about everything… but never ice."
Smoke Signals
1 1/2 oz Tennessee whiskey
1 oz manzanilla sherry
3/4 oz Pecan Syrup
1/2 lemon juice
1 dash The Bitter Truth Jerry Thomas' Own Decanter bitters
Smoked ice
Combine all the ingredients except smoked ice in a shaker with (not smoked) ice. Shake hard. Double-strain over a 2″ by 2″ block of the smoked ice in an Old Fashioned glass.
If you want to know how to make smoked ice and pecan syrup — and you like fun cocktail writing and tasty recipes — you have to buy the book. (Don't worry, not every recipe in LCL calls for such complicated ingredients).
I don't know if there will ever be an East Coast Cocktails-or-something-or-other to rival LCL, but, Ted & Co., you have officially fired the first shot. Cheers and congrats to you all.
Permalink | Filed under Books & resources, Cocktails | Tags: California, Left Coast Libations, Oregon, Ted Munat, Washington, West Coast