August 27th, 2010
A sit-down with Periodista Tales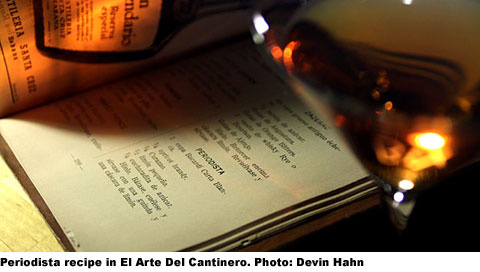 Watch out when making off-hand remarks around Devin Hahn, author of the blog Periodista Tales. He will record everything you say. Then publish it. The thing is, you'll be (mostly) thankful he did.
Hahn began writing the engaging, real-time narrative of his quest to find the origins of the Periodista — a drink found on multiple cocktail menus in Boston but apparently unknown in other cities — a mere few months ago. And already, the description of the Periodista on the menu at Eastern Standard pays homage to him. Already, cocktail historians around the country know about him.
In his most recent installment, he describes a sit-down we had at the Franklin Cafe to talk about this apparently Cuban cocktail (of which he now knows more than probably anyone alive) and other matters of the Boston drink scene.
If you dig cocktail history and haven't checked out Hahn's blog yet, I suggest you start from the beginning.
Permalink | Filed under Books & resources, Cocktails, drinkboston in the news, Rum | Tags: Cuba, Devin Hahn, Periodista