July 13th, 2010
App dance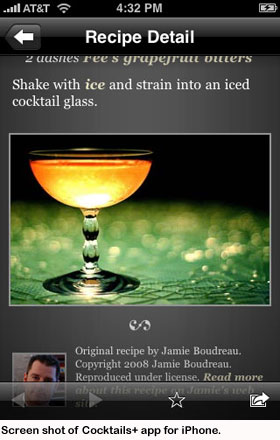 When it comes to iPhone apps, I'm a minimalist. Until a friend suggested recently that I write about cocktail apps, I only had one on my phone: Cocktails+. It was developed in part by Ted Haigh and Martin Doudoroff, the team behind the cocktail website I frequent most: the Internet Cocktail Database, or CocktailDB.com. I like the Cocktails+ app. It's heavy on historic drinks, it includes the source(s) for each recipe, and it's attractive and easy to read. Honestly, though, I have only used it a handful of times. That's because my actual favorite cocktail app is a talented bartender. I mean, who needs to consult a mobile device when you have a person in front of you who can help you choose a great drink and tell you the story behind it?
Oh right. We're not always in bars with talented bartenders, and we're not always in bars, period. And we don't carry our cocktail-book libraries around with us. So I figured I'd do a little research for the team to see which cocktail apps are worthwhile for us discerning drinkers. It took me about five minutes to figure out that most of the stuff listed in the iTunes app store was unworthy (to put it kindly), unless drinkboston readers secretly yearn to possess 7,000 recipes for flavored-vodka shooters. It took me about another 30 minutes on the Google, the Facebook and the Twitter to tease out which apps the drinkerati have approved. Here are the fruits of my hard labor.
Cocktails+ $2.99. "The authoritative cocktail reference for the iPhone." The 2,000+ recipes include mostly classics, but there are many contemporary recipes by Jamie Boudreau, Dale DeGroff and Goncalo Monteiro. Cool feature: share recipes not only via email (which most of these apps do) but also Facebook and Twitter.
Flip n' Drink $3.99. Authors Gary and Mardee Regan, the folks behind Ardent Spirits, selected and tested the hundreds of recipes on this attractive app, and they are continually adding more from an impressive list of contributors. Cool features: cocktail recommendations based on your current selection, and "cocktail conversations" — fun facts related to each recipe. Beware: the app's over 20MB, so I got a message saying I had to download it via a computer rather than wirelessly.
Cocktails Made Easy $2.99. Based on a solid concept: 500 recipes that you can make with just 14 different spirits (plus mixers). The recipes are from diffordsguide.com by British drinks industry guru Simon Difford. Cool feature: click on the bottles of liquor you currently have in your inventory, and get a list of the drinks you can make.
101 Cocktails $1.99. "Do I really need 14,000 cocktail recipes?" asks L.A. blogger Jimmy Patrick (Jimmy's Cocktail Hour), who developed this blessedly streamlined app. For those times when you just want the basics, this is perfect.
Tiki+ $3.99. More than 150 authentic tiki recipes culled from Beachbum Berry's books. Illustrated with vintage drink photos and art, the app lets you share recipes via Facebook and Twitter. NOTE: Tiki+ is currently being upgraded for iPad compatibility, but it will be back on sale soon.
Please comment if there's a great cocktail app out there that I missed — and also if you have a go-to beer or wine app. Meanwhile, I need an app with real-time info on the best bars and up-to-date schedules of my favorite bartenders.
Permalink | Filed under Books & resources, Cocktails | Tags: app, iphone