January 19th, 2010
We've seen this before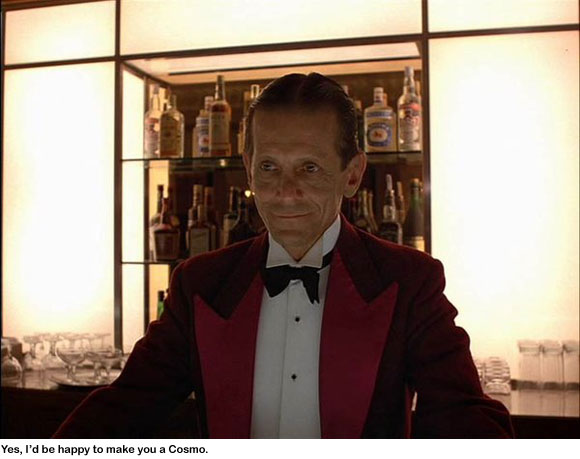 West Coast cocktail writers Camper English and Paul Clarke have sparked a debate that I can't resist joining, because it's oh so familiar.
A trio of recent articles by these gentlemen, and especially the comments those articles have generated, show that there is some, ah, disagreement over bartenders' approach to customers in the world of craft cocktails.
English got things started with a piece in the San Francisco Chronicle called "Bartenders shift from lecture to nurture." He observes that bartenders at many successful craft cocktail bars (including Boston's Drink) are softening their attitude toward those who haven't converted to the Church of the Serious Cocktail and are instead winning drinkers' hearts and minds with good, old hospitality. The article generated comments ranging from this:
[Cocktail] MENUS??? What…. like Free Range BOURBON? Geeezus gimme a break…shot o' Jack in a dirty glass thank you very much. And yeah.. the bartender works for ME. He'll take my order and LIKE IT. Belch.
to this:
Just about every single person who commented completely missed the mark. You don't walk into a corner liquor store in the Tenderloin if you want fine champagne and you don't go to the K&L Wines on 4th street if you want malt liquor. Bars like the Rickhouse pride themselves on quality drinks. If you want a Cosmo there 999 other places that will make it for you. They don't need your business. They have plenty.
English expanded on the idea in the latter comment with a follow-up post on his blog titled Why Can't I Get a McDonald's Hamburger at Chez Panisse? Clarke then threw his hat into the ring with Serious Cocktails: Is the Customer Always Right? He writes:
Most bartenders employ some aspect of the "Customer is always right" principle. If the ingredients are available, they will make the requested drink. But does the customer have a responsibility as well? Possibly to distinguish the types of drinks they'll order based on the type of bar they're visiting?
Yes, Paul. At least, the customer should have that responsibility. And it is up to mixology-minded bartenders to help the customer understand that. That means continually educating guests — most of whom don't read cocktail blogs — about the fact that in certain places, bartending has reached a new level and that the drinks there are different. Many people, like Mr. Shot O' Jack above, will start out thinking it's all just a pretentious fad. But once they sample a few really well-made drinks and notice that more and more of their friends are doing the same, they'll come around. The thing is, it always takes more time than the passionate early converts realize.
All this has happened before with food, wine and beer. It wasn't all that long ago that lettuce was Iceberg, wine was Inglenook in a jug, and beer was Bud in a can. Anyone who clamored for more variety and better quality was considered a fussy elitist. Now, regular Joes at your average chain restaurant consume arugula, Chardonnay and India pale ale without comment.
I experienced this kind of change first-hand during my brief stint in the craft brewing industry in the late '90s. Even though craft beer had been proliferating for over a decade at that point, people would still walk into a brewpub and order a Miller Lite. The bartender would explain that there was no Miller Lite on tap, that the establishment sold only beer that was made on the premises, and he would suggest a golden ale — milder than the pub's other beers but still way more flavorful than mass-produced light lager. The customer would either leave or try the golden ale. If he tried it and liked it enough, he might get adventuresome later on and order an IPA or a porter. It was a process, and it didn't happen overnight.
Did my fellow brewers and I privately snicker at those Miller Lite-ordering rubes? Yes — just as today's craft bartenders do with the Cosmo set. But luckily for both beer nerds and cocktail geeks, the impulse to win over the unenlightened triumphs over the impulse to mock them. A little less zealotry, a little more diplomacy. Which means that, in a few years' time, Mr. Shot O' Jack might walk into a bar, glance at the cocktail menu without raising an eyebrow, and respectfully ask the bartender to suggest a rye for his Sazerac.
Trust me, it'll happen. Eventually.
Permalink | Filed under Bartenders, Booze in the news |