November 9th, 2009
The net net on Fernet Night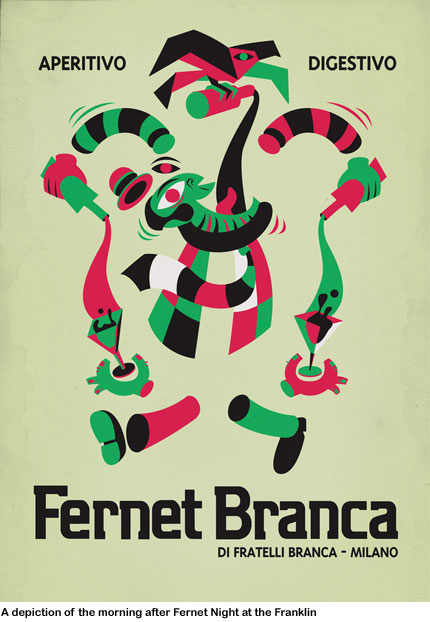 Bankers, you know what I'm talking about: the bottom line is that Fernet Night at the Franklin Southie last Thursday was a good time. As I made my way through the crowd handing out Fernet Branca swag — shirts, aprons, posters — I clinked glasses with a mix of old acquaintances and drinkbostonians I'd never met before, sprinkled with a few bar industry folk. Joy Richard and Peter Cipriani kept the six Fernet cocktails on the evening's menu coming, along with shots in iced ponies that Joy spent days painstakingly freezing.
This was the first of several upcoming "industry" nights at the Franklin Southie. Generally, the second Thursday of every month will feature drinks with a certain ingredient. Coming up — St. Germain and Chartreuse. See the Franklin's calendar or connect with them on Facebook for updates.
You asked for recipes? You got 'em.
Work in Progress
Tom Schlesinger-Guidelli – Craigie on Main
3/4 oz Fernet Branca
1 oz Bols Genever
1 oz St. Germain
3 dashes orange bitters
Stir over ice, serve down, flamed orange peel.
Bonita Applebum
Emma Hollander – Trina's Starlite Lounge
1 oz Applejack
3/4 oz Fernet Branca
3/4 oz Drambuie
Stir over ice, serve down, orange peel.
Jackson's Night Cap
Jackson Cannon – Eastern Standard
1 oz Rittenhouse Rye
1 oz yellow Chartreuse
1 oz Fernet Branca
Dash of chocolate mole bitters if you have them; whiskey barrel-aged work as well.
Stir over ice, strain into a chilled glass, garnish with lemon twist.
Casey Brown
Josey Packard – Drink
1 1/2 oz Sazerac Rye
1 oz green Chartreuse
1/2 oz Fernet Branca
Dash Angostura bitters
Stir over ice and strain into a chilled glass with a lemon twist.
Improved Toxic Moxie
Joy Richard – The Franklin
1 1/2 oz Rittenhouse Rye
3/4 oz Fernet Branca
3 dashes whiskey barrel-aged bitters
Build in a highball glass, fill with ice. Top with Moxie. Garnish with an orange peel.
Villa de Verano
Misty Kalkofen – Drink
2 1/4 oz El Tesoro Platinum tequila
3/4 oz Jarabe de Cacao Ahumado*
1/4 oz Fernet Branca
Stir over ice, serve straight up. Garnish with grated coffee bean.
*Jarabe de Cacao Ahumado
1 cup sugar
1 cup water
2 cinnamon sticks
1/4 cup cocoa nibs
1/4 tsp Mexican smoked salt
Make a "tea" with the water, cinnamon, cocoa nibs and salt by bringing to a simmer over low heat. Remove from heat and stir in sugar. Allow to cool and strain.
Permalink | Filed under Bitters, Cocktails | Tags: Fernet Branca, Franklin Southie