July 31st, 2009
Nips – 7/31/09
» Interested in going to bartending school? A website called Groupon, which posts daily deals in various cities, including Boston, is today advertising a $445 course at the DrinkMaster Bartending School for only $150. I know nothing of this school's reputation, but, hey, it sounds like a deal worth exploring for those so inclined.
» Storied Seattle bartender Murry Stenson of the ZigZag Cafe recently celebrated his 60th birthday with a group of fellow bartenders and cocktail enthusiasts, including Jeffrey Morgenthaler, who was soliciting toasts for the fête from Murray fans nationwide. Even though I've never met the man, he has bought me drinks on two occasions through other bartenders. So I got together with two ladies from LUPEC Boston—Misty Kalkofen of Drink, who has also been remotely treated to drinks by Murray, and Kirsten Amman, who recently actually met him in person—to pen an homage (after downing a few cocktails, of course). To our delight, it was transcribed into "one of Murray's first-edition copies of Embury," says Morgenthaler. Yes. One of them.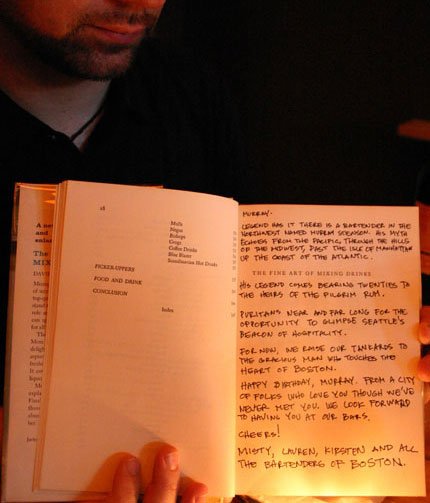 Here it is: "Legend has it there is a bartender in the Northwest named Murray Stenson. His myth echoes from the Pacific through the hills of the Midwest, past the Isle of Manhattan, up the coast of the Atlantic. His legend comes bearing twenties to the heirs of the Pilgrim Rum. Puritans near and far long for the opportunity to glimpse Seattle's beacon of hospitality. For now, we raise our tankards to the gracious man who touches the heart of Boston. Happy birthday, Murray, from a city of folks who love you though we've never met you. We look forward to having you at our bars."
» Check out this clever montage of Boston bar and cocktail folk (including me) shaking their tails off to a soundtrack by dSonic.
Permalink | Filed under Books & resources, Nips, Seattle, Video | Tags: bartending school, Murray Stenson