January 14th, 2009
Come toast BHO … and Old Hickory, FDR & JFK!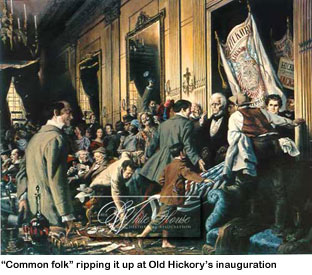 I know, the invitations to inauguration parties are piling up in your Facebook inbox. But will those parties take place at one of Boston's best bars — Green Street — and feature a historic coming-together of presidential cocktails, specially brewed inaugural beers and a champagne toast? I think not. So gather all your friends and bring them to Central Square on the night of Barack Obama's inauguration, January 20.
In the spirit of bi-partisan cooperation, Drinkboston will represent the cocktail community in co-hosting a celebration with the folks behind the world's largest online beer community, BeerAdvocate. The wine wing of our commonwealth will also be represented; Tyler Balliet, who writes the Second Glass wine column in the Weekly Dig, will construct a champagne tower. Imagine: cocktail drinkers, beer drinkers, wine drinkers — even independents — in the same room, clinking glasses in honor of a new president and doing our part to move the country (or at least our psyches) in a new direction.
Check out the cocktail menu — it's historically relevant and tasty.
Whiskey Punch
At the Andrew "Old Hickory" Jackson inauguration of 1829, "common folk" showed up at the White House in droves to welcome their new president, whom they elected for his promise of change: less aristocracy, more democracy. To save the furniture from being totally destroyed, Jackson lured the unruly mob out on the lawn with huge tubs of whiskey punch. (Whiskey, citrus, and other special ingredients.)
Martini
The Obama presidency begins during the worst financial crisis since the Great Depression. That fact, along with Obama's steadiness under pressure and ability to inspire people, have invited comparisons to Franklin D. Roosevelt. Several accounts name the Martini FDR's preferred cocktail. He often mixed them himself for White House guests and was said to enjoy both a twist and an olive, not to mention Plymouth gin. (Plymouth gin, dry vermouth. Well chilled and straight up.)
Daiquiri
Barack Obama's intelligence, youth and forward-looking ideas excited the electorate in 2008 much as John F. Kennedy's did in 1960. Despite a couple of well-known tussles with Cuba, JFK's favorite cocktail was said to be the Cuban-born Daiquiri. (Light rum, fresh lime, sugar. Shaken and straight up.)
Margarita
I do solemnly swear … our newest president enjoys the occasional cocktail, too. According to a Boston Globe article, Barack Obama always ordered a house Margarita at one of his fave Chicago restaurants, Topolobampo. (Tequila, Cointreau, fresh lime. Shaken and straight up, with or without salt — perfect with one of Green Street's $4 tacos!)
And that's just the cocktails. Two very special brews will also be featured: Ale to the Chief, a double IPA (India Pale Ale) from Avery Brewing in Colorado, and "Obamagang" (aka Inauguration Ale 2009 from the Ommegang Brewery in Cooperstown, which specializes in Belgian-style ales). According to Appellation Beer, "the style lies between a porter and stout, with a bit of Kriek and a touch of chocolate blended in."
This is a ticket-less, free-form party. Just show up and get your Hail to the Chief on. The kitchen'll put out some killer free snax (homemade chips & dip, spiced nuts, etc.), plus really good tacos for $4 each. Festivities begin at 5:00 p.m. and end at last call. Hope to see you there!
Permalink | Filed under Beer, Cocktails, Events, Wine | Tags: Andrew Jackson, Daiquiri, FDR, JFK, Margarita, Martini, Obama inauguration, U.S. presidents, Whiskey Punch