July 24th, 2008
Tales – the reckoning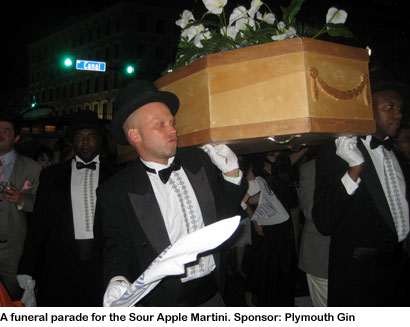 No doubt you've gleaned from my previous posts that I had a blast at Tales of the Cocktail this year. I mean, running around the Hotel Monteleone with a "Presenter" badge, getting into any session or tasting room I wanted, plus getting invited to parties and other special events around town — how could I not have fun?
That said, as everyone who was at Tales this year knows, there were some, uh, issues. Attendance at many, if not most, of the panels was overflowing. That this event has become so popular is great, but the unpreparedness for the crowds that turned up this year was woeful. Many sessions did not have enough seats, drink samples or servers. The brandies for the Cognac and Armagnac session were delivered to the room late, some as much as an hour into the tasting. The second cocktail featured in the Three Amigos session didn't get delivered to the row of tables I was sitting in. Paul Pacult's scotch-tasting seminar had far too few samples for the crowd that showed up. The Tales Apprentices, who were tasked with batching all of the cocktails — including squeezing fresh citrus — for five days' worth of events, were far too few in number and far too overworked as a result. ("Apprentice" is a misnomer — these people included many of the nation's best young bartenders and were overseen by Phil Ward of Death & Co. in New York). And so on.
(I know what some of you are thinking: 'It's a cocktail conference for chrissakes.' Well, I was there last year, and things went pretty smoothly despite the constant presence of alcohol.)
Look, I have no intel yet on the reasons behind the unpreparedness, and for all I know there are some legitimate explanations. But I couldn't help but ask myself: How would I feel if I had actually bought tickets for the event? Would I ever want to go to Tales again? I talked to one Boston couple who said that, despite the glitches, they would go back. The reason was that they loved New Orleans, and Tales week is a good time to go … But they also said they would attend fewer sessions in the future.
And so, I have a request for any ticket-buying Tales attendee who reads this: Please leave a comment about your experiences last week. Was it fun? Was it worth it? Would you go back?
Permalink | Filed under New Orleans | Tags: Tales of the Cocktail 2008