April 15th, 2008
Muddling through Miami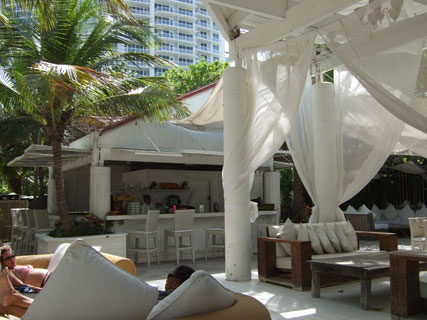 Scott and I went to Miami Beach for the first time recently. The weather was beautiful. The beaches were beautiful. Some of the people were beautiful; most were trying too hard to be. Miami Beach is a place where people go to inhabit their own reality show. All the city's a catwalk for people to strut around wearing their giant Dior sunglasses. Palatable food and drink is the last thing on their minds. We had some idea of what we were getting into before we booked our flight, but we were unprepared for the volume of vanity and overpriced mediocrity — it was up to 11. Yet we found a few genuine nuggets amidst the fool's gold. Here are some snapshots.
Ocean Drive, South Beach: Silly us, we imagined this neighborhood was a bit too posh to attract the spring break herds. Wrong! This was ground zero for collegiate bacchanals. Girls in tight shorts that were unzipped to reveal their bikini bottoms, packs of guys doing the one-fingered cellphone hold, wearing wife-beaters or novelty t-shirts with sayings like 'I love boobs' and 'Money makes me high.' After we paid our $95 tab for a couple of appetizers and four drinks at some faceless spot on Ocean Drive, I overheard two spring breakers in the bathroom getting psyched up for their night out. One of them worried that she was spending too much money. Her friend's response was, basically, Suck it up, this is Miami Beach. Magical.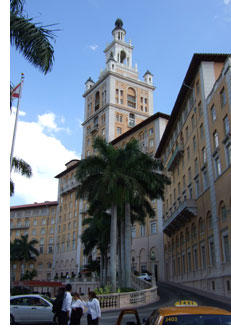 The obligatory bar at a grand old hotel: Like a lot of bars in old hotels, the Corkscrew Bar at the Biltmore Hotel in Coral Gables (pictured right) is dark, oak-accented and plush. Our bartender was an Irishman who'd come to Miami from Boston about 16 years ago. He mixed us a Manhattan and a Negroni (our grand old hotel stand-bys) and asked if the Big Dig was finished. Pretty much, we said. He didn't display much of an urge to head back north and admire the results.
Nikki Beach (top photo): This is an indoor-outdoor restaurant, lounge and nightclub that, according to its website, "always lives up to it's reputation as a party playground for jet-setters, celebrities, VIP's…" and anyone else who doesn't mind unnecessary apostrophes. The servers here wear, over their white linen clothing, a special wide leather belt that holds corkscrews, bottle stoppers and other implements of the exclusive bottle service trade. You can park yourself on one of the cushy outdoor couches or lounge beds nestled among the sand and palm trees, and spend and preen in very high style. This is a beautiful club in a beautiful spot, and the mojitos (made with 10 Cane Rum) were perfectly fine. Mind you, we didn't visit the place at night, when the club-goers take over. I imagine it's intimidating as hell.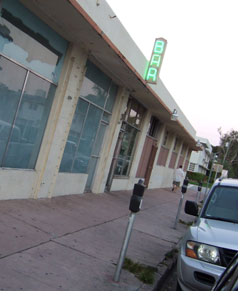 Abbey Brewing Co. (pictured left): After a few days of wallet-emptying bar tabs, we were fortunate to find this brewpub only a few blocks from our condo. No bottle service or Dior sunglasses in this dark, tiny, smoky (yeah, you can still smoke in bars here) place — just a few cheap snacks (sliders!) and a decent mix of house-brewed and imported Belgian beers. If you find yourself in Miami Beach and are trying to keep it real, go here. Or to the place below.
The Purdy Lounge: On the west, or bay, side of South Beach, away from the hoi polloi, is this laid-back hipster lounge with kitschy living-room decor, a pool table and a nice, long bar. One of Purdy's claims to fame, apparently, is "strong drinks." Our Manhattans were as strong as … well, Manhattans. And they were served nice and cold. You're not going to find any obscure old-school drinks here, but you'll find a welcome respite from the crass South Beach reality show.
Joe Allen Restaurant: This American-style bistro is one of four, with additional locations in London, New York and Paris. Like its neighbor the Purdy Lounge, Joe Allen-Miami Beach is somewhat hidden away in a non-picturesque, non-touristy part of town. The lively crowd in the minimalist, "tropical-deco" dining room was there for good conversation over non-fussy, reasonably priced, fine food. No one was standing around doing cell-phone poses. We sat at the bar (duh), which was cheerily decorated with carousels of colored, hard-boiled Easter eggs. A perfectly chilled, perfectly balanced Beefeater Martini and a fat cheeseburger, served by a bartender who genuinely seemed to care about our well-being, made me extremely happy.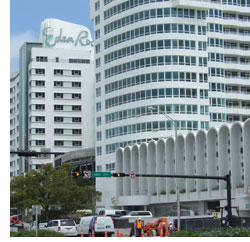 The Fontainebleau and Eden Roc hotels: We tried to go to these "MiMo" (Miami Modern) icons to soak up a little Rat Pack history, but it was too late. They were both being gutted and turned into jet-setter-approved resorts with VIP-pleasing spas. So we headed to the Bass Museum, where we saw interior photos of these once-swingin' hotels. The pictures were part of an exhibit called "Promises of Paradise: Staging Mid-Century Miami." Through architecture and the decorative arts, the exhibit tells the story of the very deliberate way in which Miami became a mythical, modernist paradise starting in the 1950s. It explained a lot. It also, in light of the above, seemed quaint.
Permalink | Filed under Miami | Tags: miami beach bars, south beach