February 3rd, 2008
The Beehive stirs up a hornet's nest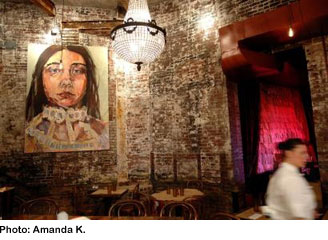 OK, that title's a bit of an exaggeration. But it's based on fact. The Beehive, which bills itself as a "neighborhood café des artistes," is a new and very popular nightclub in the South End. Like all new and very popular nightclubs, it has its detractors: People who had to wait in a long line. People who think the food and cocktails are overpriced. People who were treated rudely by the staff. "Obnoxious crowd, unnecessarily obnoxious bouncers, mediocre music and food, cool look downstairs," begins one critique on yelp.com. I have heard some people say that the owners are jerks. Other people I know have gone expecting the bar staff to be knowledgeable about vintage cocktails and have been sorely disappointed. Most of my acquaintances who have tried the food have been unimpressed at best.
But most people, even detractors, agree on one thing: the Beehive is a cool-looking place. (On yelp.com, by the way, the Beehive currently gets three-and-a-half out of five stars based on 90 reviews. Not bad.) The first time I visited, I thought to myself, 'They did it. Someone created a really original hangout in Boston that's not a rock club or a dance club or a trying-too-hard-to-be-chic martini bar.' The cavernous brick interior, the red velvet drapery, the intimate little cabaret tables, the vintage chandeliers and, especially, the bold and witty contemporary art — all make for an impressive space. And the clientele illustrates the apparently revolutionary truth that people over 30 go out at night.
I have only been to the Beehive a few times, always on off-nights (i.e. not Thursday through Saturday), so I've never had to wait in line. Is the place worth waiting in line for? For 10 minutes, maybe. For an hour? I don't think anyplace is worth waiting in line for that long. The Beehive Julep (rum, Creole Shrubb liqueur and lime juice) I had on my first visit was sloppily thrown together and nothing to write home about. The champagne and Cointreau cocktails I had on another visit were tasty (and hard to screw up, admittedly). The server who brought those champagne cocktails to me was an absolute doll. I love the fact that for $10 a ticket, the Beehive recently hosted a show called Titler's Oddville — a strange, naughty, highly entertaining vaudeville revue. I didn't love the fact that the stage was barely visible because the audience was made to stand.
So, the Beehive is far from perfect. But they're doing something different. For that reason it's hard for me not to root for the place and make plans to go back.
Permalink | Filed under Boston bars |