January 6th, 2008
The Laird files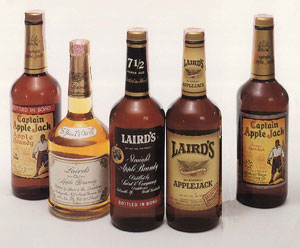 Drinkboston.com reader Adam Machanic emailed me recently with the results of some exhaustive mixological studies of apple-based spirits from Laird's & Co., the oldest producer of America's oldest native distilled spirit, applejack. In addition to applejack (a blend of 35 percent apple brandy and 65 percent grain neutral spirits that puts the "jack" in a Jack Rose), Laird's produces Old Apple Brandy, aged in oak for 7 1/2 years, and 100-proof, bottled-in-bond apple brandy that's also 7 1/2 years old. It takes about 20 pounds of apples to make just one of these bottles of pure apple spirits. Wow. Adam's findings made me think, 'Man, I've gotta get my hands on some of this stuff!' and I wanted to share them:
"I ended up 'experimenting' my way through an entire bottle of the 7 1/2 year old brandy over the past several weeks, and I have to say, if science class experiments had been that fun I might have studied a bit more often. Seriously, though, it's great stuff. Compared with the 'smooth blend' version, it hits you quite hard in the nose with apple essence the moment you remove the cap. Straight, it has a bit of sweetness, and is exceptionally drinkable neat or with an ice cube or two. Color-wise, it's light, golden and exceptionally clear. Excellent in a Marconi Wireless with some good vermouth — but much better with Vya than with Punt e Mes; the latter overpowers it. I also thought it was wasted in a Jack Rose — the drink tasted no different to me than with the normal applejack. I really enjoyed it as an Old Fashioned, with 1/3 tsp of sugar, two dashes of Regan's orange bitters, and a dash of Angostura.
"I enjoyed my experiments so much that I placed a follow-up order and got my hands on some of the 100 proof, bonded stuff. This is an entirely different beast — the liquid in the bottle has an almost rusty tone, and is slightly hazy compared with the brandy. And as an added bonus, there are a few floating specks of something in each bottle, visible if you shake it up a bit. Who knows what's in there. The apple sensation is huge and overpowering both on the nose and the tongue, but thanks to the increased proof there is also quite a bit of heat — I don't like this one neat at all. On the flip side, it stands up to the Punt e Mes just fine in a Marconi Wireless, and can even be a bit overpowering. I haven't had a chance to do a Jack Rose yet, but that's next on the list — I have high hopes for its success there."
Many thanks to Adam for putting his liver to the test for the sake of experimentation. Unfortunately, he had to order the specialty Laird's items online; I don't know of any liquor stores in the Boston area that carry anything other than the blended applejack. Please, correct me if I'm mistaken.