December 19th, 2007
Miracle on McGrath Highway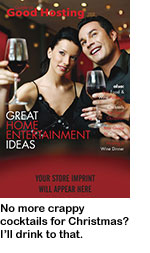 So, Scott and I are at Sav-Mor Liquors on McGrath Highway in Somerville the other day, buying what we usually buy at this seedily lit booze warehouse — a hodgepodge of 2-for-$12 wines, cheap-ass beer in cans and a good microbrew (which, this time of year, tends to be Sierra Nevada Celebration Ale) — when the indifferent sales clerk throws a little booklet into our bag of merchandise.
Now, Sav-Mor is the kind of place that sells economy-sized jugs of Mudslide Mix on the low end and Chivas holiday gift sets on the high end, so when I get home and start to flip through the booklet, called the Guide to Good Hosting 2008, I'm expecting page after page of "martini" recipes like Lingonberry Allspice Cosmos or some such Martha Stewart-y thing.
Instead, I land on page 7 to find the Whiz Bang:
1 1/2 oz Johnnie Walker Red Label
1/2 Noilly Prat dry vermouth
2 dashes grenadine
1 dash Lucid absinthe or, if not available, use Pernod or Herbsaint
2 dashes Gary Regan's Orange Bitters No. 6

Shake ingredients with ice and strain into a chilled martini glass.
Um… WHA?! A cocktail calling for not only scotch, but dry vermouth, orange bitters and absinthe "or, if not available, use Pernod or Herbsaint"?! Wondering if this throwaway little pamphlet was written in magic ink that somehow gleaned my drinking preferences, I read on. There were recipes for a Vesper, a Gin Sling and a Honeymoon Cocktail (1 1/2 oz Laird's Apple Jack, 1/4 oz Benedictine, 3/4 ounce Hiram Walker Orange Curacao, 1/2 oz fresh lemon juice), among other respectable drinks. And not only were many of the called-for ingredients of some quality (Luxardo Maraschino liqueur anyone?), the following tips appeared in a section called "Home bartending – become a great mixologist at home":
"Serve your cocktails icy cold. The colder the better."
"Use only fresh fruit whenever possible."
"When the ingredients are clear liquids, STIR for proper mixing."
Whoa. Any novice who comes across this booklet and actually follows its recipes and advice stands the chance of making a decent cocktail for his holiday gathering — and thus exposing his friends and family to the concept of a well-crafted drink intended for adults. The Guide to Good Hosting 2008 is a Christmas Miracle for the Cocktail Revolution.
Turns out the Guide is put out by the Beverage Media Group, the longtime publisher of liquor-industry journals whose writers include people like Dale "King Cocktail" DeGroff. DeGroff, of course, is one of the leading lights of mixology and a founder of the Museum of the American Cocktail. Even if he wasn't directly involved in producing the Guide, his influence is all over it. Now, if only the retailers who hand these booklets out — hello, Sav-Mor — would actually sell the ingredients in the recipes … Luxardo Maraschino, Regan's Orange Bitters … hell, rye whiskey would be a good start. I'll have to wait 'til next year for that miracle.
Permalink | Filed under Books & resources, Cocktails |