November 27th, 2007
The Moto Guzzi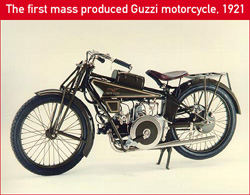 The first time I tried a Moto Guzzi, I had no idea that all it was was equal parts Booker's bourbon* and Punt e Mes. I thought there were at least some bitters in there, or two kinds of vermouth. Nope. Turns out the Moto Guzzi is the White Stripes of cocktails: like the guitarist and drummer that make up the entire band, the two ingredients in the cocktail create something raucous, deep and compelling. You can find the complete recipe here.
Moto Guzzi is an Italian motorcycle manufacturer established in 1921. It's famous for its eagle logo, its racing achievements, and its cool bikes. Kevin Montuori, a motorcycle enthusiast and regular at No. 9 Park, invented this cocktail with 9 Park's principal bartender, John Gertsen. This is their story.
John: "One fuzzy night at the bar at No. 9 … Kevin Montuori and I were discussing the possibility of using Booker's in a cocktail. Given the alcohol content, we discussed manhattans and the various ratios. It seemed like Booker's could support as much vermouth as we could give it. With all that vermouth the Angostura bitters sorta disappeared. Enter, stage right: Punt e Mes. It was perfect. I was thinking of some Manly Italian Name, and Kevin is a motorcycle/scooter aficionado. Somehow Moto Guzzi was brought up. It probably sounded more like 'mrtigtzy' after all of that Booker's. That's my story and I'm sticking to it."
Kevin: "That's it exactly. I always remember the amount of restraint it takes to make one: no bitters, no lemon oil spritzed over the top. Just the Punt e Mes and Booker's. And it really was 'mrtigtzy' after a couple. The name was, if I recall, also influenced by the texture, which is sort of like used engine oil. Certainly one of my favorite drinks. Damn, now I'm thirsty."
*From the Small Batch website: Booker's is 6-8 year-old bourbon, 121-127 proof (uncut, straight from the barrel). "Big oak, vanilla, smoky charcoal" aroma. "Intense, fruit, tannin, tobacco" taste.