November 8th, 2007
Beantown Sippin' Safari at Pho Republique 11/18
In case you missed it, Christine Liu of the Weekly Dig penned a neat profile of Brother Cleve last week. She aptly observes, "You'd be hard-pressed to deny the influence on the nightlife scene by this music obsessive and cocktail connoisseur." And for the benefit of rum connoisseurs everywhere, she prints the recipe for Cleve's tasty creation the Maharaja's Revenge (see below. Also note that in the Dig's photo, Cleve happens to be reading the Savoy Cocktail Book, which has been popping up in conversation lately).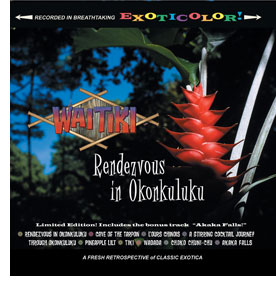 In his latest marriage of exotic cocktails and exotica, Cleve joins with tiki drink historian Beach Bum Berry and the band Waitiki to host a full-on tiki fest at Pho Republique in the South End on Sunday, November 18. Admission is free, but you have to RSVP at sippinsafari "at" waitiki "dot" com. See Beach Bum's slideshow of lost tiki artifacts, including once-upon-a-time tiki bars around Boston. And shake your lei to Waitiki's "Exotic Tiki Entertainment from Polynesia and Beyond." Most important, find out what a real tiki cocktail — with fresh-squeezed juices and aged rums — tastes like. You'll no longer dismiss these as syrupy "umbrella drinks." Cash bar opens at 6:00 p.m. See ya there.
Maharaja's Revenge
2 oz Old Monk rum
1 oz apricot brandy
3/4 oz fresh lime juice
Shake with ice and strain into a cocktail glass. Note: Old Monk is an Indian rum with a unique, smoky flavor, so no substitutes. According to the Dig, you can find it at Martignetti's in Brighton, Marty's in Allston, Jerry's in Union Sq, Libby's in Central Sq and Liquor Land in Roxbury.
I can't resist adding another rum cocktail that Cleve told me about recently. Here's the recipe, in the words of the DJ himself.
Jet Pilot
1/4 oz honey*
1/4 oz passion fruit syrup
1/4 oz Lemon Hart 151 rum
1/2 oz lime juice
1/2 oz club soda
1/2 oz dark Puerto Rican rum**
3/4 oz Lemon Hart Demerara rum
3/4 oz dark Jamaican rum ***
1 dash Angostura bitters
Combine everything but the club soda into a shaker with crushed ice. Stir vigorously first to mix honey in, then shake and pour into an Old Fashioned tumbler with a lime shell on the bottom. Add club soda and stir gently. Garnish with speared maraschino cherry. Refill at 30,000 ft cruising altitude.
* honey can be heated first to soften.
** St. Croix Cruzan Dark can be substituted for Bacardi Dark
*** Appleton Extra is recommended