October 24th, 2007
And a bottle of rum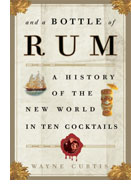 Wayne Curtis could be the best drinks/history/travel writer working today. You probably already know this if you have read And a bottle of rum: A history of the New World in ten cocktails. I picked up an autographed copy at Tales of the Cocktail in New Orleans this summer after prancing like a schoolgirl up to Curtis' table at an authors' reception and introducing myself as a fan.
He gets that drinking is both a sublime and shiftless pursuit, and he chronicles the history of rum with an appropriate mixture of fondness and cheek. He traces the spirit's ups and downs, from its origins in the pirate-riddled trade routes between the Caribbean and the Colonies to Medford, Massachusetts' once-bustling rum distilleries to the long-lived tiki drink craze to today's cocktail-of-the-moment, the Mojito.
The narrative is engaging and solidly researched. It contains a lot of nuggets surprising even to those who know a thing or two about spirits — like that the daiquiri caught on in Cuba in the early twentieth century because of an ingredient that had only just become widely available: ice. Also, even though I knew the Andrews Sisters song "Rum and Coca Cola," I had no idea how big that drink was during and after WWII. It marked the early phase of a trend toward bland and sweet drinks that continues to this day with our myriad vodka-based alco-pops. Luckily, the back of the book has several good rum cocktail recipes that serve as an antidote to that silliness.
Incidentally, one of the people Curtis acknowledges in the back of the book is Jeff "Beachbum" Berry, historian and resurrector of tiki drinks and the culture that surrounded them. He talks about his latest book, Sippin' Safari, and the legitimacy of the original versions of drinks like the Zombie and the Mai Tai, in this recent Salon article. Give it a read while you're waiting for And a bottle of rum to arrive in the mail.
Permalink | Filed under Books & resources, Rum |