October 31st, 2007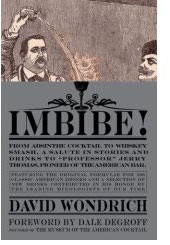 Anyone wondering where our best bartenders got the inspiration to revive classic cocktails must read William Grimes' article on Jerry "the Professor" Thomas in today's New York Times, "The Bartender Who Started It All." Specifically, it's an article on Esquire magazine drinks correspondent David Wondrich's new biography of Thomas, Imbibe. Grimes, himself a noted food and drink scribe, writes:
"As Mr. Wondrich justly observes, Thomas, by departing from the code of the bartending fraternity and sharing his secrets, earned his place as 'the father of mixology, of the rational study of the mixed drink.'"
Thomas lived from around 1830 to 1885 and wrote the first bartending book, variously titled the Bar-Tender's Guide, How to Mix Drinks or The Bon-Vivant's Companion. Don't own a copy? You're in luck, because bartender-blogger Darcy O'Neil of The Art of the Drink has published the Bar-Tender's Guide (whose copyright has expired) online.
Posted in Bartenders, Books & resources | No Comments »