September 20th, 2007
Sweet on BRIX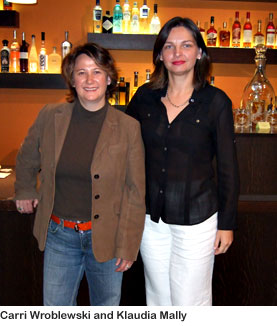 After I learned from my more with-it colleagues in drink that obscure cocktail ingredients could be found at BRIX Wine Shop in the South End, I ventured over there with notebook and camera in hand. I just had to interview Carri Wroblewski and Klaudia Mally, the two self-described "chix" who own the place, and find out what they were up to.
If you're used to the typical Massachusetts package store with its motley hodgepodge of wines o' the world and dusty bottles of Leroux cordials, you might walk into BRIX and think, 'Ooops, wrong tax bracket!' Each bottle here seems to occupy its own special place on the sleek shelves, the way individual sweaters are displayed in high-end clothing boutiques. But take a closer look, and you'll find reasonably priced wines along the bottom shelves, just like in any other liquor store. Luckily, these wines have been certified Not To Suck by Wroblewski and Mally, who forsake the usual suspects in favor of offbeat stuff they truly like, culling their selection from 39(!) different distributors.
The ladies are industry veterans — Wroblewski worked for J. Lohr Wines and Frederick Wildman & Sons importers, Mally waited tables at Grill 23 before working in mergers and acquisitions for a software company — and they're all about education and service. They hold weekly public tastings and offer private ones by invitation or appointment. And they network with influential people in the Boston bar industry to stay on top of in-demand but hard-to-find spirits like Luxardo Maraschino liqueur, Amer Picon, Van Winkle bourbon and Peychaud's and orange bitters. If you can't find some oddity necessary for an obscure cocktail, BRIX will do its best to special-order it for you.
If you, like me, are closer to downtown Boston than the South End, you're in luck — Wroblewski and Mally are opening a new store on Broad Street in October. It will look similar to the four-year-old mothership, but it'll have a private tasting room for events. If you want up-to-date info on tastings and special offers, get on the BRIX mailing list. Oh, in case you were wondering, "brix" is the name of a scale used in winemaking to measure the sugar content in grape juice.
Permalink | Filed under Cocktails, Drinking supplies, Wine |