September 14th, 2007
Bin 26 Enoteca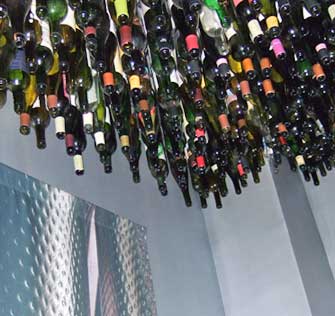 Calling all winos — have you been to Bin 26 Enoteca yet? I checked it out for the first time recently and, I have to say, "thumbs up." This place has been open for, what, a year or something, and it has received tons of good press. Once I wrapped my head around the extensive wines-by-the-glass menu and realized that the prices were fair (especially for Beacon Hill), I leaned back in my cool seatbelt-weave chair and let our doll of a scruffy-haired waiter take over. He was the embodiment of Bin 26's mission to replace wine appreciation's tweed blazer with a Ben Sherman track jacket.
Some observations:
The 250 ml portion of "wine by the glass" equals over eight ounces and can easily be split by two people. Prices for 250 ml start at $11. You can also get portions of 100 ml, 500 ml (about two-thirds of a bottle) and 750 ml (a whole bottle).
The bathrooms are decorated with upside-down wine bottles (see photo).
The beef carpaccio with aged parmesan and arugula appetizer ($11) is tasty, and so are the risotto balls stuffed with pecorino cheese ($8).
I got the impression that the staff can both banter with the connoisseur and guide the uninitiated.
The Thunderbird and Night Train listed on the first page of the wine menu: refreshingly irreverent or trying too hard to be hip? You make the call.
An "enoteca" in Italy refers to "a place where one can find simple foods to accompany the wines served there," according to Bin 26's website.
Permalink | Filed under Boston bars, Wine |