August 10th, 2007
Tales: shout outs & magic moments
Indulge me while I dredge up more memory fragments from the sotted swirl that was Tales of the Cocktail 2007. The event still lingers in my mind, and I'm not alone. Paul Clarke over at Cocktail Chronicles admitted, "Yes, I'm still going on about it," in a recent post. Specifically, Paul welcomed readers who landed on his blog from Salon.com, which interviewed him during Tales week for a recent article called It's always cocktail hour somewhere. Way to go, Paul! Then there's poor John Myers over at the Thirstin' Howl, who is poetically "wracked and paralyzed" with longing for New Orleans now that he's back home in Portland, Maine. Oh, dear. Read his ode to NOLA, then post him a comment with a few cheery words, will ya?
Now for some of the things — ah, the magic moments — that made my short visit to New Orleans stick in my head.
Freelance tuba. I'm at Vaughan's Lounge at around 2:00 a.m. Kermit Ruffins and the Barbecue Swingers are in mid-set, and the crowd on the floor is pretty densely packed. Suddenly, a shiny tuba is being carried by its owner above the dancers' heads, and the band is beckoning this guest musician to join in. The guy apparently keeps his instrument on hand whenever he goes out, just in case the evening's musical act needs someone to sit in and provide low brass notes. In Boston, you might see a sit-in musician go out to his car during a show and grab a guitar. Maybe a saxophone. But a tuba? Only in New Orleans.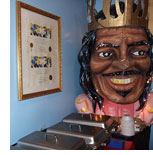 Ernie K-Doe's Mother-in-Law Lounge. This might be the most wonderfully weird bar I've ever been in. It is a shrine to the R&B performer who looked a bit like Little Richard, sang the 1961 hit song for which the lounge is named, and prototyped the modern hip hop alias by changing his last name from Kador to K-Doe. K-Doe died in 2001, and his widow, Antoinette, keeps the place going. This involves maintaining an Ernie K-Doe mannequin dressed in some of the outfits the singer actually wore. There are tons of photos and memorabilia of the K-Does and their friends on the walls and, best of all, a giant Ernie K-Doe head that I'm guessing makes appearances in Mardi Gras parades. The Hurricane Katrina flood badly damaged the lounge, but luckily, friends and fans donated money to renovate the place. (Read a recent USA Today article about the bar.)
Taggart hugs a fan. As I mentioned in my previous post about Tales of the Cocktail, Chuck Taggart was among the featured panelists. His writing about cocktails (and food, music and politics) on the Gumbo Pages has attracted many admiring readers over the years, including Jackson Cannon, the mixology guru at Eastern Standard. After a seminar on vermouth, Cannon walked up to Taggart to introduce himself. He did this by handing Taggart an actual cocktail menu from Eastern Standard — a cocktail menu that happens to credit Taggart for a drink called the Hoskins. At first, Taggart merely perused the menu with admiration for a bar that would serve up obscure classics like the Brooklyn, the Alaska and the Vieux Carré. Then his eye fell upon the Hoskins, with his own name next to it, and the look of admiration turned into one of open-mouthed surprise. So tickled was this L.A.-inhabiting New Orleanian that a bartender in Boston, Massachusetts, paid tribute to him, he reached up and gave Cannon a big bear hug. And you thought a cocktail convention couldn't be touching.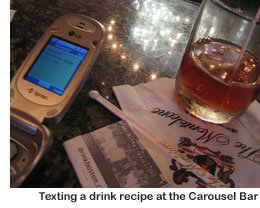 Distance bartending. My companion in drink during the week of Tales was fellow Bostonian Misty Kalkofen. She is much more familiar with New Orleans than I am, and she served as my guide to the coolest bars and restaurants in the city, for which I was immensely grateful. Every afternoon, when we finished drinking cocktails for educational purposes, we climbed aboard the Carousel Bar in the Hotel Monteleone to drink cocktails for fun purposes. Remarkably, Misty remained alert to respond to emergencies at Green Street, the bar she manages back in Cambridge. Once, while sitting at the Carousel Bar, she helped out a co-worker by text-messaging him the recipe for a Fort Washington Flip. The words on her phone screen in the photo read, "applejack, benedictine, maple syrup, egg." Go to Green Street and try one.
Those who served us. On a more bittersweet note, I have to mention the fact that even in the touristy, unscathed French Quarter, the repercussions of Hurricane Katrina on New Orleans' psyche were apparent. There was an undercurrent of wariness and suspicion in the demeanor of bar and restaurant folks we encountered. (They were totally competent and professional, nonetheless.) Mario at the Napoleon House curtly serving us Pimm's Cups… Paul at Tujaques sizing up the Sazerac-fueled Boston tourists as potential jerks… Antoinette gruffly asking who we were before letting us enter the Mother-in-Law Lounge for a birthday party… Who can blame them? Maybe these individuals' circumstances were bad in the aftermath of the storm, maybe they weren't. But it was clear that a person didn't have to live in a FEMA trailer to feel beaten down with worry over the fate of his/her city. There was nothing we could do except be polite and leave big tips. It seemed to work a little. By the end of our visits with Mario, Paul and Antoinette, a glimmer of camaraderie appeared in their hardened expressions, and we were glad for that.
Permalink | Filed under New Orleans |