July 19th, 2007
Four takes on the Manhattan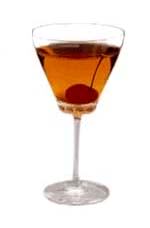 Max Toste, bartender and co-partner of the Allston beer and cocktail bar Deep Ellum, is quite pleased when he tells me that he sells more sweet vermouth than Absolut, and more rye whiskey than Jack Daniels, as if all is going according to plan. Well, it is. When you put four different Manhattans on your cocktail menu, you're going to go through some rye and vermouth. Here are the historically correct options under Deep Ellum's "Manhattan 4 Ways":
All of the below are 2 parts whiskey to 1 part sweet vermouth, except for the New School.
1930s – Rye (my fave)
Sugar cube muddled with 2 dashes Peychaud's, 1 dash Angostura; twist
Stirred, straight-up
1950s – Bourbon (Deep Ellum uses W.L. Weller)
Angostura, bourbon-and-vermouth-soaked cherry
Stirred, straight-up
1970s – Canadian Club (Max's grandfather's recipe)
Angostura, twist
On the rocks
New School – Maker's Mark
2 1/2 oz Maker's Mark, 1/2 oz sweet vermouth; Angostura, cherry
Stirred, straight-up
And congrats to Max! He recently welcomed a baby daughter into the world.
Permalink | Filed under Boston bars, Cocktails, Vermouth, Whiskey |