June 12th, 2007
A summer drink for tough guys and broads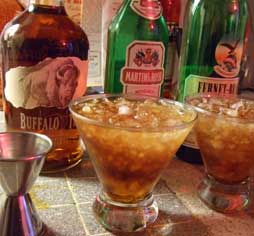 Yeah, it's summertime, but that doesn't mean you have to fight for sidewalk seating at a trendy Boylston Street restaurant and drink mango margaritas. Just find a dark, cool bar that stocks Fernet Branca and crushed ice and order a Fanciulli. This is the perfect drink to have when you quietly slip out of work at 2:30 on a sweltering afternoon to assume the role of an anonymous barfly in a film noir.
Fanciulli
1/2 bourbon
1/4 sweet vermouth
1/4 Fernet Branca
Frappé. (In other words, mix the ingredients together in a shaker and pour over crushed ice.) Tip: last Christmas, I received a Groggy ice crusher from Ikea; it's a perfect home bar tool for frappé cocktails.
I found the recipe for this bracingly refreshing drink in that good, old yardsale paperback The Art of Mixing Drinks, based on the Esquire Drink Book, where I also found the Marconi Wireless.
Coming up … a back-of-the-napkin account of our recent trip to L.A.
Permalink | Filed under Bitters, Cocktails, Drinking supplies, Whiskey |