May 17th, 2007
Cuchi Cuchi – Best Boston bars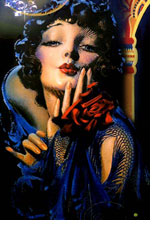 Established: 2001
Specialty: Cocktails, wine
Prices: Moderate to high
Atmosphere: Frilly, cheeky, 1920s-era glamour with a European sense of leisure. Picture Mae West's dressing room crossed with a Belle Epoque nightclub, except that the debauched bon vivants are replaced by upwardly mobile Boston-area professionals.
See Best Boston bars for address and contact info.
Named after Spanish guitarist-siren Charo's favorite exclamation, Cuchi Cuchi is a frivolous bar in a serious town. That's the key to its success. Partners Fernanda Da Silva and Tamara Bourso took their saucy, romantic concept and ran with it. Antique silk lampshades with fringes, "bottoms up" shots in provocative glassware, and servers dressed in vintage gowns make Cuchi Cuchi unlike any other Boston bar.
But this place isn't just about looks; they're serious about their drinks. The menu has two main sections: Cuchi Cocktails and Vintage Cocktails. Fresh fruit is used for juices and purees. The Cuchi Cocktails are on the festive, "feminine" side. Examples: the Mango Margarita and Salome's Potion (muddled blackberries, basil, Hendricks gin). Purees and muddled fruit & herbs make for thick and/or chunky drinks that delight some people and befuddle others.
Among the Vintage Cocktails are the Pegu Club (gin, Curaçao, lime juice, orange bitters, Angostura bitters), the Jack Rose, the Delicious Sour (applejack, peach brandy, lime juice), and the marvelous Last Word (gin, maraschino liqueur, Chartreuse, lime). The bar staff, led by senior bartender Whitney Kimunya, regularly venture off the cocktail menu for customers, whether the request is for a Mojito or a Manhattan. (Serious cocktailians will be pleased to know that a recent staff meeting tackled the question of shaking vs. stirring Manhattans, and stirring won.) Drinks cost $9-$11.
The food here is a consistently well-executed smorgasbord of international "small plates," from Beef Stroganoff to Scallop Ceviche. And don't even get me started on the Garlic Shrimp, which is as succulent in its little sizzling clay bowl as it is at Cuchi Cuchi's sister restaurant Dali in Somerville.
Cuchi Cuchi is not for everyone. I have friends who think it's all just a bit too frou-frou. Oh, it's frou-frou, alright. But if you can embrace that, this bar is a lot of fun.
Permalink | Filed under Boston bars, Cocktails |