March 8th, 2007
Pisco'd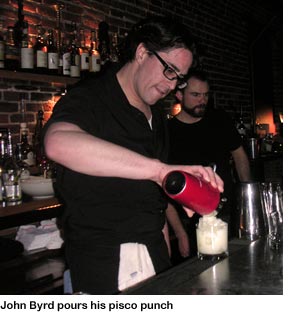 Thanks to all you pisco-loving fools who ventured out into the arctic air last night to join drinkboston.com at the Alchemist Lounge for pisco cocktails and Peruvian dance beats. There was a whole lotta shakin' goin' on behind the bar as John Byrd and Nicky Poirier whipped up nine(!) different drinks using pisco from Macchu Pisco, a small producer of the grape-based spirit. My fave mixtures were the nicely sweet-n-sour Peruvian Americano (pisco, apple liquor, falernum, lemon), the elegant and refreshing Cucumber Pisco Martini (pisco, cucumbers, simple syrup), and the Pisco Punch (see recipe below), which was as soft and sweet as a spring breeze — something we all longed for last night.
Thanks to DJ Brother Cleve for the excellent tunes and to Alchemist owners Relena Erskine and Lyndon Fuller for offering up their lounge as the evening's venue. If you want to get on the mailing list for drinkboston.com events, email drinkboston (at) comcast (dot) net.
The Pisco Punch recipe, direct from John Byrd: "We took 2 bottles of pisco, 1 can of pineapple juice, .25c of simple syrup, 1 whole pineapple chopped and one big splash of falernum. We let it sit for 4 hours and shook [each serving] up with an egg white. After the party we added grape halves & some very inexpensive California champagne, and that was very good!" Served in a double rocks glass over ice.