February 21st, 2007
A Wondrich evening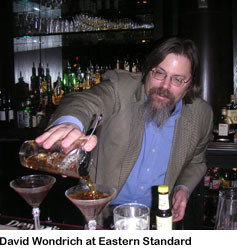 David Wondrich, drinks writer for Esquire magazine and cocktail book author, was in Boston last Thursday night for a Martini and Rossi-sponsored cocktail party at Eastern Standard. Luckily, I and a group of local bartenders got to hang with the guy for the duration of the evening. Through his writing in Esquire and as a founding member of the Museum of the American Cocktail, Wondrich has done much on the national level to revive the classic cocktail. And you may not even realize it, but the drinks you enjoy at certain Boston bars may have been pulled from his books by any number of admiring bartenders. Example: the B2C2, a champagne cocktail featured at a recent drinkboston.com event at Green Street, comes from Wondrich's Killer Cocktails: An Intoxicating Guide to Sophisticated Drinking.
Wondrich graduated from high school in Long Island, NY, in the same class as Manhattan's "libation goddess" Audrey Sanders, owner of the SoHo cocktail shrine Pegu Club. Up until about nine years ago, he was an English professor at New York University who was experimenting with making his own absinthe and mixing vintage cocktails. He contacted Esquire's editor one day proposing to revive the magazine's cocktail and party guidebooks. (These books were essential tools of the American bon vivant's trade before that breed of gentleman was unfairly branded a limp-wristed elitist by Bud Lite-swilling NASCAR Dads.) The editor liked the idea, and Wondrich eventually switched to a writing career that allowed him to fully pursue his hobby.
Our evening's topics of conversation included
unusual cocktail strainers (Beyond the Hawthorne and the Julep — ask bartender Ben Sandrof about these strange implements.)
homemade bitters and defunct brands of bitters (Wondrich once made an unusual batch of bitters with Ardbeg single-malt scotch for a scotch-based cocktail event he presided over. For the record, he prefers Angostura and Fee Brothers over other kinds of aromatic bitters, including the old brands, like Boker's and Abbott's, that are often extolled by cocktail enthusiasts.)
beer geeks vs. wine snobs ("Wine snobs are critics. Beer geeks are reverent," summed up Portland, ME bartender and MOTAC board member John Myers.)
the continued, tragic popularity of Cosmopolitans and Grey Goose vodka
the best bar in midtown Manhattan (Keen's Steakhouse, a century-old establishment whose atmosphere, says Wondrich, makes up for your mediocre Canadian Club-based Manhattan)
the disappearance of independent bookstores in downtown Boston (Wondrich planned to take the Red Line out to Davis Square in Somerville the next morning to shop for books at McIntyre and Moore's.)
the elegant simplicity of the gin-based Aviation cocktail (below).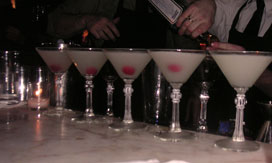 Permalink | Filed under Boston bars, Events |