February 23rd, 2007
First, it's pronounced "pees-co." Second, it's the national drink of Peru and Chile, and the two countries are fighting over its appellation (this BBC article will tell you what you need to know). Third, it's a clear, grape-based spirit, or unaged brandy, made famous in cocktails like the Pisco Sour, Pisco Punch and Piscola (OK, that's just pisco and coke over ice, but what fun to say).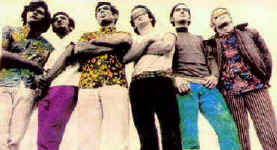 On Tuesday, March 6, Alchemist Lounge bartenders John Byrd and Nicole Poirier will mix these classics, along with a special menu of new pisco cocktails they created. International DJ Brother Cleve will spin 1970s Peruvian funk and soul, and the kitchen will whip up some Peruvian- and Chilean-style snacks for the occasion.
A new company called Macchu Pisco (the name is a play on Machu Picchu, the ancient city in the Andes Mountains of Peru) will supply the pisco for the evening's cocktails. The company's Peruvian brandies are Macchu Pisco, a mixable spirit made with quebranta grapes, and La Diablada, a super-premium pisco made with muscatel and italia grapes that can be sipped neat, like a good cognac. Macchu Pisco's owner, Melanie da Trinidade-Asher, was born in Peru and has ties to the Boston area; she formulated her company's plan at Harvard Business School.
The party starts at 7:30 p.m. Pisco cocktails are $8 each. No cover charge or tickets, but RSVP to the Alchemist at 617-477-5741. Groovy music. Yummy snacks. Bring your friends.
To get on the email list for drinkboston.com events, email drinkboston at comcast dot net.
Posted in Events, Pisco | No Comments »