November 28th, 2006
A friend shares his 1969 Romanée-Conti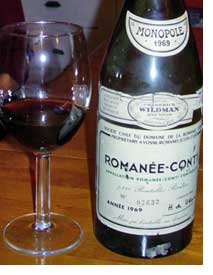 The only serious study I've given to wine was during a Cambridge Adult Ed class I took back in '94, so I had little idea how to react to a bottle of Burgundy with "Monopole 1969 Romanée-Conti" on the label. All I knew was that our friend D. had invited us over to celebrate his birthday on Thanksgiving night with an old French wine salvaged from his late father's cellar. The bottle somehow escaped being uncorked when D. graduated from college, and later when he got married. So he decided to make his 42nd birthday memorable — and remember dad — by sharing the wine with his wife and four friends. We were honored.
Like a lot of people, we appreciate wine, but our feet are set firmly in the non-vintage, under $20-a-bottle territory. Our thoughts on this night were less "I wonder if this wine's tannins will overwhelm its fruit" and more "How much does a bottle of this go for?" Between about $1500 and $4000 as it turns out. (Ten bottles of this vintage sold at a 2004 Sotheby's auction for $23,500.) Romanée-Conti is "possibly the most desired vineyard on the planet" according to a recent issue of New York magazine. Not that we knew that at the time. All we were hoping was that any lapses in proper storage hadn't turned this rare beverage into vinegar.
They hadn't. The wine's light reddish-brown color looked a little like vinegar, but its aroma was pleasantly raisiny. How do I describe the flavor? A delicate dried-fruit character dominated, and there was a lot of other really subtle old-love-letters-in-the-attic stuff going on. I recognized the basic structure of the pinot noir grape, but the acidity that is prominent in a younger Burgundy was greatly softened. This was a wine that compelled me to roll it around on my tongue, like it needed to be taken for a stroll. For me, that was the cool thing about the experience. Were any of us totally blown away by the Burgundy's flavor? No. But none of us had tasted anything like it, and we all savored the mystery of a beverage that had been evolving in its bottle for 37 years before our friend, at a happy and generous moment in his life, decided to share it with us.